Patrick Warburton Biography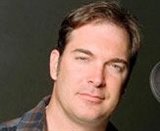 Born: November 14, 1964

Date of Birth: November 14, 1964
Third born in his family in Paterson, New Jersey, Patrick Warburton had a difficult time getting his name in lights. After studying marine biology at Orange Coast College, where he met his wife, Cathi, Patrick moved to Los Angeles to seek fame and fortune at the age of 21.
Instead, he only found years of searching for permanent roles in television. "I bounced around doing so much forgettable half-hour TV and in good shows too every now and then," reveals Patrick. "But the night after the show aired it just fell into obscurity. I remember sitting on the couch with my wife years ago watching Seinfeld and saying to her, 'Why can't I get on a show like this?'"
Years later, he landed a guest spot on Seinfeld playing the character David Puddy. He was asked to return and film two more episodes, and after completing an American Express commercial with Jerry Seinfeld, he was offered a more permanent role for the final few years.
Since Seinfeld ended, Patrick has found getting work much easier. He landed the lead role in the film The Woman Chaser (1999) and continues to find supporting roles in films like Scream 3 (2000), The Dish (2001) and Big Trouble (2001).
Patrick continues his work in television, playing the title role of The Tick in a live-action series based on the popular cartoon The Tick, as well as finding roles in television movies such as The Complex Apartment and Angels in the Infield.
With a distinct voice, Patrick has also found work in voiceovers, from voicing the Buzz Lightyear character in both video and television shows based on the popular Toy Story movies, to Kronk in the feature The Emperor's New Groove (2000). More recently, he lent his voice to the animated film Mr. Peabody & Sherman (2014).
Besides American Express, Patrick has completed an extensive range of commercial work including Edge Shaving Gel, Bugle Boy Clothes, Burger King, M&M's candy, Cadillac and Seville STS automobiles.
Married to wife Cathy since 1991, the couple have four children.