Peter Jackson Biography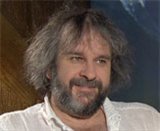 Born: October 31, 1961

Date of Birth: October 31, 1961
Born in a small coast-side town in New Zealand, Jackson started making films with his friends, using his parents' Super 8 camera. Although short, the films already had the spectacular trademark that would make Jackson famous: impressive special effects, made at a very low cost. Leaving school at seventeen, he tried his hand at the New Zealand film industry. Although rejected, he turned to an apprenticeship as a photo-engraver.
His dreams of becoming a film director didn't die, and after purchasing a 16mm camera, Jackson began shooting a science fiction comedy short that in three years grew to a seventy-five minute feature called Bad Taste, funded entirely from his own wages. Although only 22 years old, Jackson embarked on an moviemaking-adventure that would change his life. Started like any other Jackson film, Bad Taste was filmed in an amateuristic style, at a low budget and using friends and local people to star. The New Zealand Film Commission eventually gave Jackson money to complete the film, which became a cult classic. A friend of Jackson's who was working in the movie industry convinced him the film had commercial prospects and arranged for it to be shown at the Cannes film festival, where it won much acclaim, and a number of prizes.
His next project Meet the Feebles, an adult puppet feature, was soon followed by Braindead, which was awarded 16 international science fiction award. In 1994 he released Heavenly Creatures. Written and directed by Jackson, it garnered his first Academy Award nomination for Best Screenplay and won a Silver Lion at the Venice Film Festival. His rising status took a trip with his feature The Frighteners, starring Michael J. Fox. Attracting little notice from viewers and even less praise from critics, Jackson took a step back from feature filmmaking for the next few years.
When he did come back, however, he did it in a big way. Taking on the infamous Lord of the Rings trilogy, Jackson made history when he decided to film the three stories back-to-back in a single year. A long-time fan of the J.R.R. Tolkien books, Jackson wrote and directed the triple fantasy flicks, based on the novels said to define the genre of fantasy. After the first of the three was released in 2001, Jackson was nominated not only for a Golden Globe as Best Director, but once again earned a spot on the Academy award ballots, this time for Best Director, and Best Adapted Screenplay. He was again nominated for a Golden Globe and several Oscars the following year, but when he didn't win, fans believed that either the popularity of the trilogy was causing Hollywood types to ignore the films, or that they were waiting for the final film to deliver their verdict. The latter appeared to be true when in 2004, Jackson finally won a Golden Globe as Best Director, and The Lord of the Rings: The Return of the King swept the Oscars by winning all 11 awards it was nominated for—including Best Picture and Best Director—more than any other film that year. It was also the first fantasy film to win Best Picture, and the third film in Oscar history to win 11 awards.
In 2012, Jackson accomplished another big feat when he released The Hobbit: An Unexpected Journey, the first installment of a trilogy slated as the prequel to The Lord of the Rings series. He was initially not in favor of taking over the director's chair because he was worried people would compare the two series. He eventually gave in when the director he'd chosen, Guillermo del Toro, dropped out of the proect. The next two installments, The Hobbit: The Desolation of Smaug and The Hobbit: There and Back Again, will be released in 2013 and 2014 respectively.