Rachel Griffiths Biography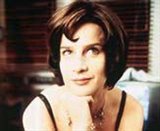 Born: June 04, 1968

Date of Birth: June 4, 1968
A native of Melbourne, Australia, Rachel Griffiths graduated from Victoria College in 1990 with a Bachelor of Education degree in drama and dance. She joined the community theater group Woolly Jumpers Inc. In 1991, she devised and performed Barbie Gets Hip which played at the Melbourne International Film Festival.
In 1993, Griffiths burst onto Australian television screens in the lead role of trainee spy, Sarah Foster, in the Australian Broadcasting Company TV series Secrets. She still punctuates her work schedule with oz tube performances, including the telemovie Feds and the comedy special The Jimeoin Show.
Griffith's growing onscreen recognition is most widely attributed to her brilliantly crafted performance as Rhonda in Muriel's Wedding (1994) for which she took home both the Australian Film Critics Award and the Australian Film Institute Award for best supporting actress. Supporting roles in Jude, My Best Friend's Wedding and other major international films have followed.
Despite her film industry success, Griffiths remains closely tied to her Melbourne theatre roots, appearing over the last two years in Melbourne Theatre Company's Grapes of Wrath, Sisters Rosensweig, The Rover, Sylvia and A Doll's House.
In 1996, she co-starred in Cosi, as the law-student girlfriend of a drifter, made her international debut in Michael Winterbottom's Jude, as the sexy first wife who eventually abandons Christopher Eccleston's title character, To Have and to Hold, as a romance writer wooed by a mysterious Frenchman (Tcheky Karyo) and Children of the Revolution, as the leather-clad policewoman who romances the alleged son of Joseph Stalin.
In 1999, she was nominated by the Academy of Motion Picture Arts and Sciences as Best Supporting Actress for her role as Hilary in Hilary and Jackie.
Griffiths made her directorial debut with the short film, Tulip (1998), which won an Audience Award at Aspen Shortfest. She won a Golden Globe in 2002 for her regular role on the hit TV series Six Feet Under and in 2003 and 2004 shared Screen Actors Guild Awards with the rest of the cast. While on hiatus from the series, she filmed a role in the big screen film Step Up (2006).
Over the next few years she appeared in several film and television projects, including Brothers & Sisters, Burning Man (2011), and Saving Mr. Banks (2013). Her most recent roles include Bertha Doss in the war drama Hacksaw Ridge (2016) starring Andrew Garfield, Diane on the TV miniseries When We Rise, and Abess in the fantasy adventure The King's Daughter (2017).