Ralph Macchio Biography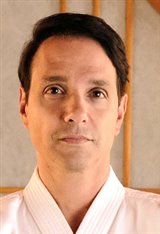 Born: November 04, 1961

He may be all grown up now but to many, Ralph Macchio will always be the Karate Kid.
Ralph was born in Huntington, New York to an Italian-American family. He got his start as a teenager, appearing in campaigns for Bubble Yum and Dr. Pepper. In 1980, Ralph landed his first major role, a recurring gig on the family sitcom, Eight is Enough, before going on to film Francis Ford Coppola's 1983 drama, The Outsiders. The period film, about a teen gang of greasers in the 60s, is credited for starting the brat pack craze and featured up-and-coming stars like Tom Cruise, Patrick Swayze, Rob Lowe and Diane Lane.
The following year, Ralph secured his biggest role to-date—playing the lead role in the martial arts drama, The Karate Kid (1984) helmed by Rocky director, John G. Avildsen. The film featured Ralph as Daniel LaRusso, a high school student who uses the art of karate to defend himself against a pack of ruthless bullies. It became an instant classic, spawning two sequels as well as a fourth movie featuring a then-unknown Hilary Swank, plus a 2010 reboot starring Jaden Smith and Jackie Chan.
Ralph's last major film role was 1992's critically acclaimed comedy, My Cousin Vinny with Joe Pesci. Co-star Marisa Tomei ended up winning a Best Supporting Actress Oscar for her work in the film. No longer the fresh-faced star of a popular martial arts franchise, Ralph found it difficult to land mentionable roles for most of the 90s and 2000s. In 2008, he landed a recurring role on the television dramedy, Ugly Betty and in 2011, he competed on the ABC reality series, Dancing with the Stars, where he placed fourth, ultimately losing to NFL player, Hines Ward.
He then signed on to appear in the star-studded feature Hitchcock (2012), a behind-the-scenes look at the production of Psycho, playing Joe Stefano, the screenwriter who originally penned the horror-classic.
Ralph continued to work steadily over the years, and in 2017 he landed a plum role on the HBO series The Deuce. The show ran for three seasons, while in 2018, he did double duty when he agreed to reprise his role as Daniel LaRusso opposite his The Karate Kid co-star William Zabka as Johnny Lawrence, in an original TV series for YouTube, titled Cobra Kai. The series follows the two men and where they've ended up in life as they begin to mentor young karate students. The series gained even more attention when it wound up on Netflix in 2020.
Since 1987, Ralph Macchio has been married to Phyllis Macchio. They have two children together.