Rob McKittrick Biography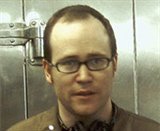 ROB MCKITTRICK
At the age of 24, Florida native Rob McKittrick moved to Orlando from the Bradenton-Sarasota area where he'd grown up. He knew he was interested in making films, and had moved with the intention of applying to the University of Central Florida's film program, but in the meantime, landed a job as a waiter at the Roadhouse Grill. He'd worked as a waiter in his home town, and noticed that the experience was strangely similar, with the same types of customers and with his fellow employees complaining about the same types of things as the employees where he'd come from. He began to feel he was at a dead end.
McKittrick was inspired to write a script based on his experiences called Waiting. He was hoping to direct and produce it for $30,000 and get it into a festival. However, through friends and on the basis of his screenplay, he managed to get represented by a high profile artists' agency that shopped his script around. He managed to get a budget of $3 million and put himself in the director's chair. The movie, starring Ryan Reynolds, Justin Long and Anna Faris, premiered at Cannes in May 2005 and opened in theaters in October 2005.
Next, McKittrick re-wrote a script called The Wingman, which he'll be directing as well.