Robert Downey Jr. Biography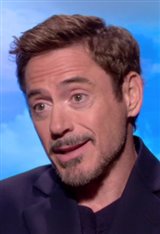 Born: April 04, 1965

The son of director Robert Downey, Robert Downey Jr. made his film debut at the age of five playing a canine in his father's controversial 1960 absurdist satire, Pound. He also appeared in Greaser's Palace under his father's direction in 1972.
Dropping out of school in grade 11, Robert moved to New York, where he worked as a shoe salesman and busboy while auditioning for acting roles. He got his break in 1985 when he became a regular cast member on Saturday Night Live, which led to appearances in an amazing number of films during the late 1980s.
Robert won widespread critical acclaim, an Academy Award nomination and the British Academy Award for his personification of Charlie Chaplin in Richard Attenborough's Chaplin.
Unfortunately, Robert's problems with substance abuse landed him in jail where he was inmate number 5478610 in the Los Angeles County Men's Central Jail. "I've been addicted to drugs in one form or another since I was eight years old," he told the judge before being sentenced on December 8, 1997. Downey was released from the L.A. County Jail on March 31, 1998 after completing a 180-day sentence for violating probation.
He joined the cast of the hit series Allie McBeal in 2000, but was fired after being arrested again when he was found wandering in an alley while under the influence of a controlled substance in 2001. His constant arrests and drug addiction have cost him several acting roles, including a stage performance as Hamlet early in 2001. In 2003, Woody Allen decided not to cast him because of the high cost of completion insurance he would have had to take out for Robert. However, other friends rallied to his side, including Mel Gibson, who cast him as the lead in The Singing Detective (2003).
Robert's screen career has since flourished, with accolades and roles coming at him from all sides. In 2009 he received his second Academy Award nomination for his role as a white actor, playing a black film actor in Tropic Thunder (2008), and in 2010, he won a Golden Globe for his portrayal of the great detective Sherlock Holmes. He's also gained widespread approval from both critics and fans for his portrayal of Tony Stark in the hit Iron Man film series. Although he's a great dramatic actor, he loves to surprise his fans by appearing in the occasional comedy, such as Tropic Thunder (2008) with Jack Black and Ben Stiller, and Due Date (2010) opposite Zach Galifianakis. In 2010, he reprised his Tony Stark role for Iron Man 2 and again in 2012 for the highly-anticipated The Avengers.
He then starred in The Judge (2014) alongside Robert Duvall and in Avengers: Age of Ultron (2015). He returned to play Iron Man in Captain America: Civil War (2016) and several other Marvel films, including Spider-Man: Homecoming (2017), Avengers: Infinity War (2018) and Avengers: Endgame (2019). In 2020, he played the eccentric veterinarian Dr. John Dolittle in Dolittle.
In August 2005, Robert married second wife, producer Susan Levin, whom he met while filming Gothika in 2002. He credits her with helping him beat his drug addiction.