Robert Loggia Biography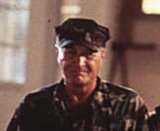 Born: January 03, 1930

Date of Birth: January 3, 1930
Best known for his exuberant dance with Tom Hanks on a gigantic keyboard in Big, Robert Loggia began his studies at New York's Actors Studio. His first important Broadway assignment was 1955's The Man with the Golden Arm; one year later, he made his first film, Somebody Up There Likes Me. In 1958, he enjoyed a brief flurry of TV popularity as the title character in The Nine Lives of Elfego Baca, a multipart western originally telecast on Walt Disney Presents.
His next weekly TV assignment was as a good-guy burglar in 1967's T.H.E. Cat. A fitfully successful movie leading man, Loggia truly came into his own when he cast off his toupee and became a character actor, often in roles requiring quiet menace. As Richard Gere's bullying father, Loggia dominated the precredits scenes of An Officer and a Gentleman (1981), was equally effective as the villain in Curse of the Pink Panther (1982) and as mafia functionaries in Scarface (1983) and Prizzi's Honor (1985). He was nominated for an Oscar for his portrayal of a two-bit detective in The Jagged Edge (1985).
Loggia has been married twice. With his first wife, Margorie Sloan, he has three children and he has one child with his second wife, Audrey O'Brien.