Rose Leslie Biography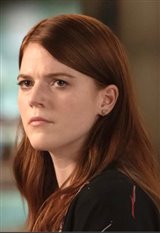 Born: February 09, 1987

Date of Birth: February 9, 1987
Rose Leslie was born Rose Eleanor Arbuthnot-Leslie in Aberdeen, Scotland. She is the third of five children to parents Candida Mary Sibyl and Sebastian Arbuthnot-Leslie.
Rose attended the local primary school in Rayne before enrolling in the co-ed public school of Millfield in England. Thanks to Millfield's drama department, Rose discovered her affinity for acting and went on to earn a bachelor's degree with honors in 2008 from the London Academy of Music and Dramatic Arts (LAMDA).
Her first professional role came in the TV documentary series Banged Up Abroad (later retitled Locked Up Abroad). She followed that up with the TV movie New Town (later retitled Purves + Pekkala), for which she won a Scottish BAFTA Award for Best Acting Performance - New Talent.
In 2010, Rose was given the role of housemaid Gwen Dawson on the hit British drama series Downton Abbey. She appeared in seven episodes in 2010, and reprised her role for one episode in 2015.
She made her feature film debut in the Dakota Fanning-led drama Now Is Good (2012). It was also in 2012 that she started work on what would become her breakthrough project.
Starring opposite Kit Harrington, Rose played wildling Ygritte on the widely popular HBO fantasy series Game of Thrones. It was a role Rose held for 17 episodes in total, wrapping up in 2014.
Rose moved on from Game of Thrones by landing a starring role in the thriller Honeymoon (2014). She also took a guest role on two episodes of Utopia in the same year.
Rose returned to film in the action adventure film The Last Witch Hunter in 2015 with Vin Diesel and Elijah Wood. She also shared the screen with Idris Elba in two episodes of Luther.
She went on to star in the sci-fi mystery film Morgan (2016) with Kate Mara, and the family-friendly Sticky Notes (2016) with Ray Liotta and Gina Rodriguez.
In 2017, Rose landed a starring role as Maia Rindell on the CBS crime/drama TV series The Good Fight, alongside Christine Baranski. She was been with the series for three seasons, then landed a lead role as Kristen Longacre on the BBC serie Vigil in 2021. She currently plays the starring role as Clare Abshire opposite Theo James on the HBO Max series The Time Traveler's Wife, based on the movie of the same name.
While on a break from her many TV series, she managed to find time to play the role of Louise Bourget in director/co-star Kenneth Branagh's feature film Death on the Nile (2022), based on the novel by Agatha Christie.
Rose married her Game of Thrones co-star Kit Harington on June 23, 2018.