Rupert Evans Biography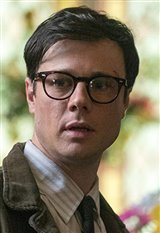 Born: March 09, 1976

Date of Birth: March 9, 1976

Rupert Evans was raised on a farm in England by his grandmother, before attending a boarding school because his parents were busy with their careers.

Following high school, he studied at the Webber Douglas Academy of Dramatic Art in London before landing his first roles in 2001 on the TV series High Stakes and My Family.

By 2002, he was playing the recurring role of Toby Edwards in the limited series Paradise Heights, and Jamie Doughan on the series Rockface. In 2004 he played Frederick Hale in the mini-series North & South.

Rupert has continued to work steadily over the years, both on television and in film, as well as on stage. He made his film debut in the role of John Myers in the 2004 American film Hellboy. More recently, he played Malcolm in the horror film The Boy (2016) and Jerry in American Pastoral (2016), which was directed by and co-starred Ewan McGregor.

Since 2015, he has starred as Frank Frink on the Amazon Studios series The Man in the High Castle, which is filmed in British Columbia.