Shiloh Fernandez Biography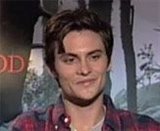 Born: February 26, 1985

Date of Birth: February 26, 1985
Shiloh Fernandez grew up in the small Northern California town of Ukiah and, at age 19, moved to Los Angeles to pursue acting. He first gained praise in the 2006 telefilm Crossroads: A Story of Forgiveness. The following year, he made his feature film debut in the indie thriller Interstate.
Shiloh's subsequent film credits include the drama Red, which premiered at the 2008 Sundance Film Festival; Gardens of the Night alongside John Malkovich; From Within opposite Thomas Dekker; Deadgirl, which premiered at the 2008 Toronto International Film Festival; the critically-acclaimed Cadillac Records, in which he co-starred with Adrien Brody, Beyoncé Knowles, Jeffrey Wright and Gabrielle Union; 16 to Life and Happiness Runs.
On television, Shiloh has guest-starred on Gossip Girl and has had recurring and guest roles on a number of series, including Jericho, Showtime's United States of Tara created by Diablo Cody, Three Rivers and CSI: NY.
He's played starring roles in Warner Bros. feature film Red Riding Hood alongside Amanda Seyfried and in the independent film Skateland, which premiered in competition at the 2010 Sundance Film Festival and went on to earn applause at other film festivals. More recently, he starred in White Bird in a Blizzard (2014) alongside Shailene Woodley.