Skye McCole Bartusiak Biography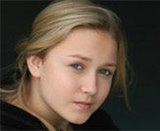 Born: September 28, 1992

Date of Birth: September 28, 1992
Date of Death: July 19, 2014
Born in Houston, Texas, Skye McCole Bartusiak began her professional acting career at the age of six, with guest appearances on the hit series JAG and Judging Amy, and roles in the Stephen King miniseries Storm of the Century, the feature film The Cider House Rules, and the TV movie Witness Protection (all 1999).
In 2000 she shot to stardom playing Mel Gibson's youngest child in The Patriot (2000), a little girl so traumatized by her mother's death that she hasn't spoken a word since. Along with the other children who played her siblings, Skye was nominated for a Young Artist award for Best Ensemble in a feature film. She went on to receive two more Young Artist nominations in 2002 for her guest performance on the TV series Touched by an Angel and for her work in the feature film Riding in Cars with Boys (2001), which also featured her onscreen sister from The Patriot, Mika Boorem.
She played Michael Douglas' kidnapped daughter in the thriller Don't Say a Word (2001), then went on to play Dove in The Affair of the Necklace (2001), starring Hilary Swank. Although her scenes were deleted, Skye again worked with Swank in the touring stage production of The Miracle Worker in 2003, with Swank playing Annie Sullivan to Skye's Helen Keller.
In the TV movie Firestarter 2: Rekindled (2002), Skye took over the starring role of Charlie McGee, first portrayed by Drew Barrymore in the original feature film. She then played Rose Wilder in the TV movie Beyond the Prairie, Part 2: The True Story of Laura Ingalls Wilder (2002). For the Hallmark Entertainment TV movie Love Comes Softly (2003), directed by Michael Landon Jr., Skye, her co-stars Katherine Heigl and Dale Midkiff and the producers, director and writer all shared a Camie (Character and Morality in Entertainment) Award.
Skye returned to the big screen playing Meg Ryan's character as a child in Against The Ropes (2003), then played Franny in the horror film Boogeyman (2005). Other TV credits include a recurring role in the hit series 24 as Megan Matheson, and guest appearances on Law & Order: Special Victims Unit, Frasier, Providence and George Lopez.
Skye, who enjoyed singing, gymnastics, playing guitar and horseback riding, loved animals and had several pets, including a dog. Skye died at age 21 in the garage apartment of her parents' home in Houston, Texas. She's believed to have died from an epileptic seizure.