Sonja Bennett Biography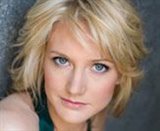 Sonja Bennett played a leading role in the ensemble cast feature Young People F***ing, for which she won the 2007 Vancouver Critic's Award for Best Supporting Actress. Bennett garnered the Vancouver Critics Circle Award for Best Canadian Actress as well and the Women in Film and Video Artistic Merit Award for her starring role in the feature Punch. She received a Genie nomination playing a lead role in Carl Bessai's film Cole and worked with the director again on Fathers and Sons. Bennett was featured in Where The Truth Lies for director Atom Egoyan, Rise of the Apes for 20th Century Fox, and Smokin' Aces:Blowback for Universal Studios. She just wrapped the lead role in Donovan's Echo across from Danny Glover and her film credits also include Elegy, Catch & Release and The Fog. Most recently, she starred in Preggoland (2015).
For the small screen Bennett played recurring roles on the NBC series Battlestar Galactica, Warner Brothers' Traveler, and the New Line television series Blade. She has played guest starring roles on the series Supernatural, Stargate Atlantis, Eureka Psych, Painkiller Jane, John Doe. Bennett starred in the series Godiva's for CHUM television.