Stephanie Beatriz Biography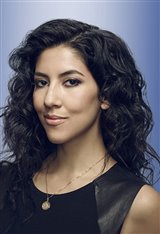 Born: February 10, 1981

Stephanie Beatriz was born in Neuquén, Argentina to a Colombian father and a Bolivian mother. She then moved to America at the age of two, where she grew up in Webster, a city in Harris County, Texas. Stephanie attended Clear Brook High School, where she took a speech and debate class as an elective, which allowed her to take part in school plays, igniting her love for acting.
She then attended Stephens College, an all-women's college in Missouri. After graduating with a Bachelor's Degree in Fine Arts for Theater Arts in 2002, Stephanie moved to New York City to further pursue her acting career.
She started her acting career in theater, playing Lydia in Octavio Solis' playwright Lydia. She has also made appearances at the Oregon Shakespeare Festival, Theatreworks USA, The Old Globe Theatre, and the Yale Repertory Theatre.
In 2009, Stephanie made her television debut in the show Closer, appearing on one episode in the minor role of Camila Santiago. She also played the recurring role of Sonia, the jealous sister of Sofia Vergara's character Gloria Pritchett on the popular television show Modern Family.
Four years later, she made her big screen debut in the film Short Term 12 (2013), playing Jessica.
In 2013 Stephanie started playing Detective Rosa Diaz on the show Brooklyn Nine-Nine (2013-2021). Her work on the series boosted her popularity as an actor and brought her acclaim for strong comedic performance. She received multiple nominations for the Imagen Award for Best Supporting Actress - Television throughout her time on the show, winning the award in 2018 along with two Gracie Allen Awards for Outstanding Female Actor in a Supporting Role in a Comedy or Musical in 2019 and 2020.
She starred as Bonnie in the film The Light of The Moon (2017), for which she received further critical acclaim, as the film received the Audience Award for Narrative Feature Competition after its premiere at the 2017 South by Southwest Film Festival.
In 2021, Stephanie starred in the film adaptation of Lin-Manuel Miranda's Tony Award-winning musical In the Heights (2021), playing Carla.
In her most recent project, Disney's Encanto (2021), Stephanie plays Mirabel Madrigal, a normal girl who lives with her magical family in the mountains of Colombia.
Stephanie has astigmatism and wears glasses to see. She normally wears them in her day to day life but usually doesn't when she is working on set, which causes her to have difficulty hitting her marks while on camera.
Stephanie strongly supports Immigrant Families Together, a foundation dedicated to reuniting and supporting families separated at the US/Mexico border, as she comes from an immigrant family herself.
Stephanie has been married to Brad Hoss since 2018. In 2021 she had her first child, her daughter Rosaline. She lives in Los Angeles with her family. ~Sean Olegario