Steve Martin Biography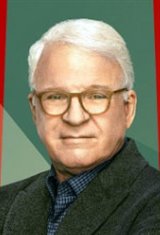 Born: August 14, 1945

Date of Birth: August 14, 1945
Steve Martin's hometown—Waco, Texas, is probably more well know for the horrifying conflagration of the Branch Davidians than it is for being the birthplace of this comic gem. Although born in Waco, Martin was actually brought up the son of a real-estate executive in Southern California.
He began his show business career at the age of 18, selling guidebooks and doing magic tricks at Disneyland. He later added some banjo playing and comedy routines to his act.
A major in philosophy at California State University, Martin had serious thoughts about becoming a teacher until the drama bug hit and he switched to UCLA where he graduated with a degree in theater arts.
His first step into the limelight was as a writer for The Smothers Brothers Comedy Hour, for which he was honored in 1969 with an Emmy. He also wrote for Sonny and Cher and other acts before taking his own routines on to the stage and then recording his own Wild and Crazy Guy antics.
It was on Saturday Night Live where Martin garnered the huge audience he can still command today. In fact, he has made more appearances on 'SNL' than anyone else—close behind him is Buck Henry.
Martin made his feature film debut in 1977 and scored his first hit two years later with The Jerk. He's since had an up and down film career, but continues to enjoy success as the gray-haired guy who's always good for a laugh. His most recent film projects include the romantic comedy It's Complicated (2009), alongside Meryl Streep and Alec Baldwin, the comedy The Big Year (2011), opposite Owen Wilson and Jack Black, the animated flick Home (2015), voiced by Jim Parsons and Rihanna, and the drama Billy Lynn's Long Halftime Walk (2016), starring Kristen Stewart and Vin Diesel. As for his success, he says, "First people discover you and they love you. You get big and then you fail. And people are glad that you fail."
Whether true or not, he once told reporters that he had business cards printed up for all those fans that would approach him that said something like: 'This certifies that you had a real encounter with Steve Martin and found him to be kind, courteous, charming and witty.'
Married to actress Victoria Tennant in 1986, he divorced her in 1994. In 2000 he was honored with a Lifetime Achievement Award in Comedy from the American Comedy Awards. He has been nominated for a Golden Globe five times and won two People's Choice Awards.