Taissa Farmiga Biography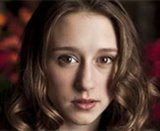 Born: August 17, 1994

Date of Birth: August 17, 1994
Born in Readington, New Jersey, Taissa Farmiga has acting in her blood — she's the younger sister of successful actress Vera Farmiga. Taissa is the youngest of seven children, born to Ukrainian American parents. She attended public school until the fourth grade and then was subsequently homeschooled.
Taissa initially had no interest in acting, until, at age 15, her sister Vera convinced her to take a role in her directorial debut, Higher Ground (2011). In the film, she (fittingly) played a younger version of Vera's character. The film showcased at the Sundance Film Festival and Taissa received excellent reviews. This began a string of high-profile roles for the newly minted actress.
First, she landed a role in the first season of the FX horror anthology series American Horror Story (2011). Then in 2012, it was announced that Taissa and her sister Vera would reunite on screen for the independent romantic comedy At Middleton (2013). Next, Taissa appeared in Sofia Coppola's teen crime satire The Bling Ring (2013), based on the real life group of the same name that infamously burglarized several celebrities' homes.
Soon after, Taissa earned her first starring role as Anna Greene in the psychological thriller Mindscape (2013). For the third season of American Horror Story, appropriately titled American Horror Story: Coven (2014), Taissa returned to play a young witch named Zoe Benson.
What followed were a string of lesser-known independent films, including Jamesy Boy (2014), the well-reviewed The Final Girls (2015), the mostly improvised romantic drama 6 Years (2015) and the short film Share (2015). She received excellent reviews for Share and was listed as one of the breakout stars of the SXSW film festival. She then made a transition back to television in the short-lived ABC crime drama series Wicked City (2015).
In 2016 Taissa made her Off-Broadway debut as Shelly in a revival of Sam Shepard's play Buried Child, starring alongside Ed Harris and Amy Madigan. She also played a role in Ti West's Western flick In a Valley of Violence (2016). She was also in Rules Don't Apply with Lily Collins and Alden Ehrenreich, which was directed by Warren Beatty.

In the 2018 horror film The Nun, she played a lead role alongside Demián Bichir, and returned to theatres that same year in the drama What They Had(2018).