Teresa Palmer Biography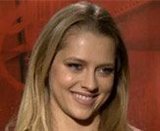 Born: February 26, 1986

Date of Birth: February 26, 1986
Named in 2005 as one of Australia's "Stars of Tomorrow" by Screen International, Teresa Palmer has caught the attention of audiences worldwide with her leading role in 2:37, an Australian independent film that screened to acclaim at both the Cannes Film Festival and at the Toronto Film Festival and resulted in her nomination for Best Actress by the Australian Film Institute.
Palmer's credits include The Grudge 2, December Boys, the comedy Bedtime Stories with Adam Sandler and The Sorcerer's Apprentice with Nicolas Cage. She also starred with Alex Pettyfer in I Am Number Four (2011) and with Nicholas Hoult in Warm Bodies (2013). She then starred in Cut Bank (2015) alongside Liam Hemsworth and in Point Break (2015) alongside Luke Bracey. She also starred as the lead actress in Nicholas Sparks' The Choice (2016).
The rising star can most recently be seen in the crime thriller Triple 9 (2016), the horror Lights Out (2016), the thrillers Message from the King (2016), Berlin Syndrome (2016), and 2:22 (2016), and the historical drama Hacksaw Ridge (2016).