Thomas McDonell Biography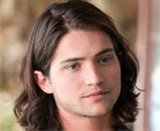 Thomas McDonell is an artist, actor and musician based in New York City. Prior to landing his first leading role as Jesse in Walt Disney Pictures Prom, he'd only acted twice before.
He had a small role in The Forbidden Kingdom while studying art in Shanghai and in 2010, played another small role in the limited release Twelve, which starred Kiefer Sutherland. Thomas has since played a guest-starring role on the long-running TV series Law & Order: Criminal Intent. He'll next be seen on the big screen as the younger version of Johnny Depp's character, Barnabas Collins, in Tim Burton's Dark Shadows.
Thomas' artwork has been exhibited internationally, and he has also curated several exhibitions, focusing primarily on the work of his emerging peers.
In addition, McDonell is the lead singer in a four-piece rock-and-roll band called Moon that released their first CD in June 2010 and also has a song, "Time Stand," on the Prom soundtrack.