Thora Birch Biography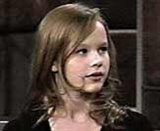 Born: March 11, 1982

Date of Birth: March 11, 1982
Named after the Norse god of lightning, Thora Birch was encouraged early on to pursue an acting career. Going only by her first name, Birch managed to get jobs doing television advertisements and then moved onto television sitcoms. She appeared as Molly on the short-lived Day by Day. However, it was while portraying another Molly, that she really caught people's attention, in the 1988 movie The Purple People Eater. She won a Youth in Film Award for the role. Birch then went on to appear the television series Parenthood.
It was at this point that the actress formerly known as Thora added the Birch to her name. The addition seemed to bring her luck as good things started to happen. She soon landed a role opposite Elijah Wood in Don Johnson and Melanie Griffith's Paradise. Next came roles in the adaptations of Tom Clancy's bestselling novels, Patriot Games and Clear and Present Danger. At the same time, she was also appearing in some nice family fare too - Hocus Pocus and Monkey Trouble most notably. Then came Now and Then and Birch's first teenaged role in which she starred opposite several other up-and-comers: Gaby Hoffman, Christina Ricci and Devon Sawa. She also appeared in the adventure epic Alaska opposite heartthrob Vincent Kartheiser.
For a while it seemed as if Birch had dropped out of the industry. Either the roles soon stopped coming, or Birch chose to take a break. Either way, her career was on hold.
Recently, Birch has reappeared on the Hollywood map. After completing a television movie entitled, Night Ride Home, she then appeared in American Beauty. The latter, produced by Dreamworks, also starred Annette Bening and Kevin Spacey. The film was both a critical and audience favorite - generating early Oscar buzz for its cast. Birch and her fellow young actress costar, Mena Suvari, were hailed by critics as two of the most promising stars of their generation. In 2002 she was nominated for a Golden Globe for her role in Ghost World (2001), then did a few TV roles before returning to the big screen with Silver City (2004), written and directed by John Sayles.