Tia Carrere Biography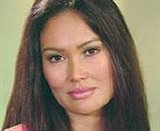 Born: January 02, 1967

Birth Name: Althea Rae Duhinio Janairo
Date of Birth: January 2, 1967
Born in Honolulu, Hawaii, Tia attended Sacred Hearts Academy, a private school for girls. Born of a Filipino, Chinese and Spanish background, she dropped her first dream of becoming a nun and aspired to a singing and acting career instead.
While paying her bills by modeling, she began entering talent contests, where she could display her acting and singing ability.
While shopping at a grocery store, she was noticed by the parents of a film producer who was looking to cast a girl in the film Aloha Summer (1988). The producer agreed and she landed the supporting role of Lani Kepoo.
After graduating from high school, she moved to Los Angeles to make her fortune.
Carrere began working as a model and commercial actress which led to her being cast in a number of guest spots on such series as The A-Team and MacGyver. By 1992, she had gained national prominence as Cassandra, the guitar-playing, kick-boxing "babe" in the mega-hit, Wayne's World. In the film, she was given the chance to display her singing ability and recorded a number of songs for the film soundtrack.
Following Wayne's World and its sequel in 1993, Carrere's career took flight, with major roles in big budget films like Rising Sun (1993), True Lies (1994), Jury Duty (1995) and Kull the Conqueror (1997).
In 1999 she landed the lead role in the hit series Relic Hunter playing history professor and adventure seeker Sydney Fox.
Though much of her time is spent on the set of Relic Hunter, she did have time to voice the character of Nani in the animated feature Lilo & Stitch (2002).
Currently living in Los Angeles, Carrere is an avowed dog lover and supporter of numerous charities, including Planned Parenthood.