Trey Parker Biography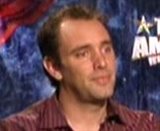 Born: October 19, 1969

Date of Birth: October 19, 1969
Birth name: Randolph Severn Parker III
Born in Conifer, Colorado, Trey Parker began playing piano at the age of twelve. He majored in music and Japanese at the University of Colorado in Boulder, but after meeting Matt Stone, with whom he would go on to create the award-winning animated series South Park, he got sidetracked. The two skipped classes in order to produce comedic shorts.
In 1994, Trey wrote, directed and produced his first feature-length film, Cannibal: The Musical (1996), a live action film based on the life of Colorado cannibal Alferd Packer. Brian Graden, a FoxLab executive, saw it and commissioned Parker and Stone to create a Christmas video card that he could send to his friends. The five-minute short The Spirit of Christmas (1995) was the result, featuring Santa, Jesus and the South Park kids. It went on to win the Los Angeles Film Critics Award for Best Animation.
South Park made its debut on Comedy Central in 1997 and later won a CableACE award, as well as received four primetime Emmy nominations. Due to the success of the series, Parker and Stone released the full length film South Park: Bigger, Longer & Uncut (1999), which became infamous for its song "Blame Canada." Trey earned an Oscar nomination for Best Original Song, as well as an L.A. Film Critics Award for Best Music, an N.Y. Film Critics Award for Best Animated Film and an MTV movie award for Best Musical Performance. In 2001, they created a second series -- a sitcom entitled That's My Bush! -- set in the White House. Shown on Comedy Central, it only survived for eight episodes.
Trey also wrote, directed and starred in his second live-action feature, Orgazmo (1997), about a Mormon who makes it big in the Los Angeles adult film world. He and Stone teamed up again to write, direct and provide voices for the feature film Team America: World Police (2004), which features marionettes in the main roles.
Trey, who has a black belt in tae kwan do, wore a green, low-cut dress to the 72nd Academy Awards.