Vincent Piazza Biography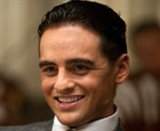 Born: May 25, 1976

Date of Birth: May 25, 1976
When it comes to New York-born Vincent Piazza, hockey's loss is film and television's gain.
The actor now known for roles in award-winning movies and shows was intently pursuing a path towards hockey stardom before turning his attention to acting. He was playing Division I hockey at Villanova University in Philadelphia when a nagging injury drove him to drop the sport, and his studies, after his freshman year.
He moved back to New York City, where he studied acting and began winning parts in off-Broadway productions.
His first film role came in the 2006 drama Stephanie Daley, which starred Tilda Swinton, Amber Tamblyn and Timothy Hutton. It won an award at Sundance and was nominated for an award at the Independent Spirit Awards.
In the same year, he also broke into television with a minor part in one episode of Law & Order: Criminal Intent and began work on The Sopranos as Henran O'Brien. It was a role he would fill for three episodes, ending in 2007.
Also in 2007, Vincent continued to work with well-respected actors when he landed a supporting role in the comedy Rocket Science with Anna Kendrick, Margo Martindale and Denis O'Hare. The film, which is about a stuttering boy who joins his high school debate team, won an award at Sundance and was nominated for three Independent Spirit Awards.
The year also brought him work in the dramas Goodbye Baby and Tie a Yellow Ribbon, a part in one episode of Law & Order, and the role of Tony in six episodes of the Denis Leary series Rescue Me.
Vincent transitioned back to film in 2008 with a minor part in the Mischa Barton and Bruce Willis DVD Assassination of a High School President.
He followed that up with a role in the 2010 drama Polish Bear with Meat Loaf and Judd Hirsch, and began work on the Golden Globe and Emmy-winning series Boardwalk Empire.
From 2010 to 2014, Vincent played mobster Lucky Luciano in five seasons of the highly successful crime drama. The cast picked up two Screen Actors Guild awards in 2011 and 2012 for Outstanding Performance by an Ensemble in a Drama Series.
In 2014, he won a leading part in the drama 3 Nights in the Desert, which has been described as a cross between The Big Chill and The Graduate. The film reunited him with his Stephanie Daley co-star Amber Tamblyn.
In the same year, he also landed the part of Tommy DeVito in the successful Clint Eastwood film Jersey Boys, about the formation of the iconic 1960s rock group The Four Seasons. The movie co-starred Christopher Walken.
Vincent served as a producer in addition to starring in The Wannabe (2015), alongside Patricia Arquette.
Most recently, Vincent starred in the dramedy The Intervention, which co-stars Clea DuVall, Melanie Lynskey and Jason Ritter, among others.
Vincent, who is a self-proclaimed morning person, currently lives with his girlfriend and their miniature dachshund in Manhattan. Vincent enjoys reading and makes a habit of reading at least 30 pages of a book each day. To keep in shape he enjoys tennis, yoga and cycling.