William Hurt Biography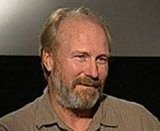 Born: March 20, 1950
Died: March 13, 2022
The consummate "actor's actor," the lanky, chameleon-like William Hurt practically defined the profession throughout the 1980s with a remarkable string of critically acclaimed turns.
Born March 20, 1950 in Washington D.C., Hurt's upbringing was — to say the least — interesting. His father was sent to Guam by the State Department, where young William lived with his family until he was six. At that time his parents divorced, and five years later his mother married Time-Life heir Henry Luce III. Instead of following his father to Sudan and Somalia, William was now attending upscale Middlesex prep school. At Tufts University he majored in theater and theology, and met (and married) another future star, Mary Beth Hurt.
Studying drama at Julliard under the tutelage of John Houseman, Hurt soon embarked on a prolific stage career. His work with New York's prestigious Circle Repertory Company led to his first screen role, as the obsessive scientist in Altered States.
Altered States was a huge success, and catapulted Hurt into a series of critical and box office successes. Hurt seemed to push the envelope further with each role. His turn as a slightly dim lawyer smitten with Kathleen Turner in Body Heat cemented his leading man status, and he won further raves in The Big Chill and Gorky Park.
His powerfully daring performance as an imprisoned transvestite in Kiss of the Spider Womanwas recognized with 1985's Academy Award for Best Actor, and he was nominated twice again in 1986 and 1987 for Children of a Lesser God and Broadcast News. William Hurt could do no wrong.
His high profile of the '80s gave way to more selective choices in the '90s. He rejected the lead in Jurassic Park, preferring to take on more interesting supporting roles in Wayne Wang's Smoke and the John Travolta-starrer Michael. He's also worked with directors Franco Zeffirelli in Jane Eyre, and Wim Wenders in Until the End of the World. In 2006, he received his fourth Oscar nomination for his supporting role in A History of Violence (2005). He continued to be one of the screen's most interesting and prolific actors and in 2018, appeared alongside Helen Hunt in the biopic The Miracle Season (2018).
Like many other high profile actors, he began taking on starring roles on TV series such as AMC's Humans in 2015, Beowulf: Return to the Shieldlands in 2016, Prime Video's Goliath opposite Billy Bob Thornton from 2016 to 2021 and Condor for AT&T from 2018 to 2020.
He also played Thaddeus Ross in The Incredible Hulk (2008), Captain America: Civil War (2016), Avengers: Infinity War (2018), Avengers: Endgame (2019) and Black Widow (2021).
Hurt died of prostate cancer on March 13, 2022 at his home in Portland Oregon, just one week before his birthday. Just prior to his death, he provided the voice of Stephen Holstrom on the not-yet-released animated AMC series Pantheon.
Married and divorced twice, he leaves behind two sons, Willie and Sam, from his marriage to Heidi Henderson as well as eldest son Alexander, from a relationship with Sandra Jennings and his youngest child, Jeanne, whose mother is Sandrine Bonnaire.