Zachary Quinto Biography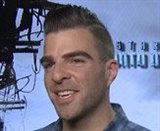 Born: June 02, 1977

Date of Birth: June 2, 1977
Zachary Quinto rose to fame in NBC's Emmy Award-nominated ensemble drama series, Heroes as Sylar, a manipulative serial killer dedicated to violently collecting the extraordinary talents of special people.
The Pittsburgh native has been acting since age 11. During high school, Quinto realized that acting was something more than a hobby. So he decided to further pursue his dream, and attended Carnegie Mellon University School of Drama, graduating as a true triple threat. Quinto was honored with the university's prestigious Gene Kelly Award for his role as the major general in Pirates of Penzance.
He has appeared in plays such as Gross Indecency (City Theatre Company), Intelligent Design of Jenny Chow (Old Globe), Endgame (Odyssey), Much Ado About Nothing (L.A. Shakespeare Festival & Vineyard Playhouse), The Bear (Tintreach company, Galway Ireland), Laying on of Hands (Ojai Playwrights conference), Stone (Taper New Works Festival), and Lonely Impulse of Delight (Vineyard Playhouse).
A working actor since 2000, Quinto's first television job was The Others and he quickly gained guest-starring roles on CSI, Touched by an Angel, Charmed, 24, Six Feet Under and Crossing Jordan among others.
With only a few minor indie films to his credit, Quinto was cast as Spock in J.J. Abrams' Star Trek reboot. A small role in the big screen comedy What's Your Number? starring Anna Faris followed. He also starred in the thriller, Margin Call, opposite Kevin Spacey and Paul Bettany. He then starred in Star Trek 2 (2013). Other films include Hitman: Agent 47 (2015), Star Trek Beyond (2016), Snowden (2016) and Hotel Artemis (2018).
The openly gay Quinto currently resides in Los Angeles. He is learning how to play the banjo and is taking cooking classes. Quinto also enjoys hiking with his Irish Wolfhound/Airedale Terrier mix, Noah, and hanging out with his cat, Harold.