10 Cloverfield Lane - User Reviews
Thank you for rating this movie!
Read your review below. Ratings will be added after 24 hours.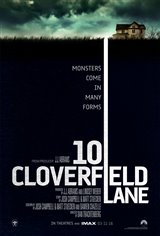 ---
Please rate movie 1 to 5 stars
Showing 1 to 41 of 41
June 20, 2016
Dumb... from start to finish. Was not impressed.
June 20, 2016
Totally under rated film! Very suspenseful - keeps you guessing to the very end (sort of) and John Goodman is fantastic in the role.
June 17, 2016
As others have mentioned, this is not a sequel. Having never seen its earlier namesake, I walked into this blind; but it turns out you can live as a mole after all, just in fear. Help yourself by escaping from your life to see this film. It's worth it for the ride and the destination. S. from Toronto.
May 02, 2016
Wasn't what I expected. That's why I loved it. It's actually a pretty good thriller. It was worth my matinee price of admission. This is not a sequel to Cloverfield. There is a relation, but if you're expecting a sequel, this ain't it. I actually thought this was better. If you like creepy thrillers, this is well worth the watch.
April 21, 2016
Wasn't expecting the stupid ending.
April 05, 2016
This movie was a very pleasant surprise. It is not a horror flick as advertised. It morphs the sci-fi of Rod Serling and the suspense of a Hitchcock flick. If that piques your interest, then go see it. I think you'll enjoy it as I did.
April 04, 2016
This movie kept my interest. You know something isn't quite right but you don't really find out until the last 30 minutes. Definitely was not disappointed with this one.
April 03, 2016
Saw the movie last night. It's reasonably entertaining. However,i must agree with the majority. The ending is ridiculous.
March 29, 2016
Nice Movie
March 28, 2016
one of the best movies I.ve seen in a long time.
March 27, 2016
This movie sucks besides Mary Elizabeth winested not a single thing about this movie was any good
March 26, 2016
Loved it ! Kept me on the edge of my seat.. And im usually super critical of every movie . Only people with no imagination or understanding of the plot would find it boring. It was anything but ! Great storyline and great acting . they kept the twists coming. Only thing perhaps i would have changed a bit was the ending , but even that tied in well with the rest of the movie.Im glad it was more psychological thriller and less sci fi . Go watch it !!
March 24, 2016
OMG!! I was on the edge of my seat. Great acting from John Goodman. Please go and watch this movie. You wont be disappointed.
March 23, 2016
This is a B Movie. Cannot believe that John Goodman acted in this film. Even Goodman's acting skills could not help the feeble plot.
March 23, 2016
Intense keeps you on the edge of your seat!
March 22, 2016
John Goodman steals the show with an unpredictable emotional confused character when at any moment can show kindness all the way to an non trusting bully killer. Best actor vote for sure. We were due for a great thriller movie, and here it is , enjoy to be into the suspense of this great movie.
March 21, 2016
Movie was boring. Waste of time and money!
March 21, 2016
Mildly intriguing but on the whole not very good.
March 20, 2016
I really enjoyed this movie, keeps your interest throughout and John Goodman was the best actor for making you wonder if he's a good guy or a bad one, well worth the viewing even if the ending was a little abrupt
March 20, 2016
A very weak script. Ending was a series of meaningless sci Fi scenes. Good an was the only positive aspect of this film.
March 20, 2016
Slow story development. Ok acting. Something lacking in actual storyline as I never engaged with any character, won't watch again. No favourite moments.
March 19, 2016
The rating is for the conclusion of this movie. Although slow going initially, it does pick up in the middle with a potential for a great storyline, if it wasn't for the ridiculous ending, which ruined the entire movie, in my opinion.
March 18, 2016
Do yourself a favour and don't read any critic reviews before seeing this movie, the less you know about it the more fun it is. Excellent acting by John Goodman one of his best roles, in the vein of Kathy Bates in Misery. Only reason I'm not giving it more than 3 stars is the ending. Would much rather this had just stayed a psychological thriller. However, with "Cloverfield" in the title it makes sense. The ending is appropriate if you realize there will be another movie in this "series" according to JJ Abrams. Overall it was worth the price of admission.
March 17, 2016
Have none of you seen a mediocore twilight zone episode?. The hype for this movie is ridiculous. All 5 of us who went guessed within 20 minutes exactly what was taking place and was going to happen. Extremely slow for first hour and predictable for the last 1/3 this is probably the biggest disappointment of the year.
March 16, 2016
Loved this movie, great acting and actors. Not so keen on how it wrapped up. Also, a little pet peeve, John Goodman's scar was slowly healing as the movie progressed getting smaller and smaller and ended up just being a tiny red line. Most cuts that need stitches leave a red line and scar after they heal. It was just disappearing. Not sure why a simple thing like that couldn't have been done correctly.
March 16, 2016
When John Goodman is good, he's very good. This is a strong performance, and the movie itself is strange and riveting.
March 14, 2016
Liked the movie to a point but ending was unexpected and not to my liking. Acting was good.
March 14, 2016
Okay so lets state this clearly this is not a sequel to Cloverfield, now that we understand that this is a terrific movie on its own. Goodman character is creepy & mysterious and ruthless. You won't be disappointed
March 13, 2016
Chilling! A real wild ride thriller in the genre of Alfred Hitchcock! A must see!
March 13, 2016
A suspenseful plot full of twists & turns keeps you captivated.
March 13, 2016
Don't expect Cloverfield - shame it is in the title. Great suspense, and John Goodman is fantastic as the Y2K right-wing American extremist nut-job. Seems a little like a diversion in terms of the franchise, but as a stand-alone film, it rates up there with Misery. Gave me a few good jumps, but don't expect slasher gore or torture porn. This one is all about the slow burn.
March 13, 2016
Some things I liked....Goodman was great as the nutbar in the dungeon .....but overall the hype of Rotten tomatoes reviews were over the top....it was just okay for me.....and as for causing the audience to gasp....didn't happen tonite with the group who was their....again not a Silence of the lamps type thriller....which was a all time great...or the exorcist....this one did not scare me a bit.....but okay....not great
March 13, 2016
Slow at first but it starts getting suspenseful as the movie unfolds until you're not sure what is going to happen. This is one movie, you have to go see if you want to know the ending.
March 12, 2016
Creepy and odd ending
March 12, 2016
Suspenseful, creepy, smart, but overshadowed by disappointing ending.
March 12, 2016
very intense movie with so many twists. You're never sure what to believe.
March 12, 2016
WOW. Awesome. Do yourself a favour and go see it ASAP Dan Conner has got to be an early contender for best actor.
March 12, 2016
Well worth it...enjoyed every scene...must see if you like movies...promised you won't regret...I expected much less and got much more... made my Friday night...it should be a 4.5 stars actualy...Don't search for details to sell the punch line..just go and see it !!!
March 11, 2016
wasn't bad... don't want to spoil it for you so I wont give away any details.. 4 out of 5
March 11, 2016
Not what I expected! Well worth your time to go see. Good man is delightfully creepy!
March 11, 2016
John goodman is great in his role. I found the movie to be more suspenseful. Than scary. Overall a good show.