10 Things I Hate About You - User Reviews
Thank you for rating this movie!
Read your review below. Ratings will be added after 24 hours.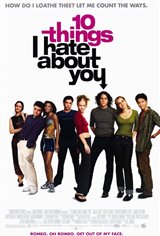 ---
Please rate movie 1 to 5 stars
Showing 1 to 42 of 42
November 09, 2009
i think i this movie was gud but it coud have been better
September 21, 2008
mE AND MI SIS LOVE DAT MOVIE!!!!!!
June 25, 2008
This filam is amazing
April 17, 2006
this is a grat movie! i think that heath and JOseph-Gordon look a lot alike, and that is a very good thing. this is a very good teen movie, even though it was modeled after a very complex and sphycological book. Awsome man!!!!!!!!
January 25, 2006
it was a good moive
January 16, 2006
the best film ever ....heath is gorgeous
December 17, 2005
i watch it some much i know every word
October 08, 2005
I love this movie.I watch it almost nonstop.It`s hilarious!I didn`t know about till last weekend though.I was reading the comments and Julia Stiles is great in this movie and have you seen SAVE THE LAST DANCE?!Julia and Heath are SOOOO perfect together in this movie!!!!!
August 22, 2005
I Love This Move , And I Love Heath
August 11, 2005
FAVORITE MOVIE!!!!!! after Bedazzaled. HEATH AND JULIA!!!!!! could there be a more perfect couple? Joseph seems like the world`s best boyfriend.love the name biannca to, think it means white. MUST SEE!!
July 19, 2005
Cute movie. I was really struck by how much Heath Ledger and Joseph Gordon-Levitt look alike. They could play brothers. Julia Stiles was okay in this, but haven`t liked her in anything else.
June 23, 2005
I think this film is the best film ever made
June 05, 2005
i think it`s great cause everything is real boys are like that anyway everybody have feelings cause we are all humanbeens right?
March 16, 2005
it is my favorite movie and is the best i have ever seen
March 14, 2005
It is the best movie that has ever been made I seen it on T.V and I had to get the dvd so I did and I watch it five times a night.
March 13, 2005
I love this movei, I`v watched it like 9 times it`s so good. I could watch it like 9000 more times and still wouldn`t get tierd of it. I`t, for some reason means a lot to me.Anyhoo, Heath ledger is sooo asome in that movie so is julia stiles, together there perfact!!!!!!!!!!!!!!!
May 20, 2004
funny, smart, and completely enjoyable
April 02, 2004
This is the best movie! It`s hilarious, and romantic. It`s a great teen movie! I`ll watch it over and over again. I LOVE IT!
March 31, 2004
its not a typical movie, probably because it was written so lng ago. i really liked it and i find that its one of those movies you can watch over and over agan because you pick up on new things each time you watch it. After studying the taming of the shrew, i found it even more teresting because you could seee the similarities and adjustments junger made in the transformation.
March 28, 2004
i think it is sooooooooo cool see i don`t get to see a lot of cool movies like ten things i hate about you. i wish i owned it!!!!!
March 28, 2004
i think it is sooooooooo cool see i don`t get to see a lot of cool movies like ten things i hate about you. i wish i owned it!!!!!
February 27, 2004
I love this movie Heath ledger is HOTT!!!!
February 25, 2004
its a cool movie i reall like it i watch it for a mnoth in a row with out stping one of my favs moives
January 10, 2004
That`s A Realy COOOOOOOOOOOL movie!!! It`s the BEST!
November 23, 2003
WOOHOO! ITS A REALLY KOOL MOVIE AND I LUVED IT
October 30, 2003
i think its amazing, not only hillariously funny Mr stratford- "Bianca can date... when she (Kat) does" Bianca- "but she`s a mutant, what if she never dates?" mr St- "then you`ll never date, oh i like that!" but dead romantic. its an inspiration
October 06, 2003
I absolutely love that movie, its tird on my favourite movies list. Right after A walk to remember and Summer Catch.
September 30, 2003
I LOVE IT. IT IS A GREAT MOVIE.
September 01, 2003
That was a great movie. It`s definitely different than a lot of the movies that I watch. I usually think that this kind of movies are stupid.However, this one I really love.
August 25, 2003
I love that film..... cause Joseph is so sweet...
July 18, 2003
10 things i hate about is my ultimate favorite movie!!! Ive seen it at least ten times, it is so much better that all the other teen movies. And Heath is a total cutie!!!!
November 29, 2002
i LOVE this movie!! for the longest time i couldnt find it on dvd or vhs. I finaly found it!its so funny and heath ledger is so hot!!
August 09, 2002
it was a great movie, its really funny. I think that Julia stiles and Heath Ledger were the perfect actors for thoses roles, not to mention because Heath is soooo good looking and has the perfect rebelious yet very sweet look .
June 19, 2002
julia stiles + heath ledger... true genius :). the world`s 2 most beautiful people, i swear! i wanna see julia w/ hayden christensen... heheh o yea
June 11, 2002
i love it so much i am doing a web page on it soon
June 03, 2002
I loved this movie! Julia Stiles remain and will stand as one of the ever-acheiving young actresses of today. She brings Shakespeare`s `The Taming of the Shrew` to life! Heath Ledger is a AMAZING Patrick. He too, is an outstanding actor of today. I thought that this movie was sweet and funny. Shakespeare for a new milleneum! (Not that he needed it in the first place.) Heath is hot! For those who don`t think so.
March 17, 2002
I Loved Heath Ledger
February 17, 2002
Yeah the movie was great, but, I do not see what the big deal about Heath Ledger is I mean I`ve seen better looking actors. Take Josh Hartnett for example.
January 27, 2002
I LOVE THIS MOVIE!!!
January 05, 2002
VERY FUNNY * I LOVED HEATH LEDGER
December 04, 2001
i thought this movie was funny . altough a little boring .. i cant remember how it ended because i slept through the movie !!