1408
Thank you for rating this movie!
Read your review below. Ratings will be added after 24 hours.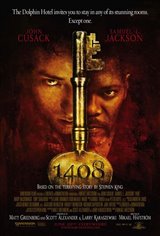 ---
Please rate between 1 to 5 stars
Showing 1 to 50 of 52
July 20, 2008
I thouhgt that this movie was very scary the ending was a little weak but on the whole is was awsome 4stars
February 18, 2008
Lacked everything a stephen king movie should have, and im completely lost with the ending. Overall let-down, 2 stars!
November 02, 2007
I love Stephen King. Everything he does, I simply adore. This one wasn't his best, but, still very good. I was expecting it to be a bit more scary, though.
October 30, 2007
LAMEO!!!!!!!!
October 13, 2007
the best of the best
September 22, 2007
Awsome movies in the camera angles and effects, definatly a "pop-up" film, could have been done a little better, but for the most part one of the best movies this year.
August 21, 2007
what the hell is wrong with u people,,one guy alone in a hotel room ,no way out with ghosts all around,,this movie was the best ever
August 21, 2007
the best horror movie ever
August 21, 2007
this movie was absoultly the best movie ever,,never gonna be one better than this
August 20, 2007
i love Stephen King but i have always found his book better then the movies The movies don't give him justist as do the books
July 28, 2007
There's a couple hours I'll never get back.
July 17, 2007
I thought it was a really great movie, im a mystery movie fan myself, and i havent seen a good one like that in a LONG time. Horror movies these days are pretty much "lets go follow the creepy thing in the attic instead of being safe and running away!" This was different, he had a reason to go into that room, he was a scary book writer. I give this 5 stars cause the people that say it was stupid usually give you a sign that they didnt understand it. I thought it was great! :)
July 16, 2007
I fell asleep.... but I don't think I missed very much. It was quite disappointing.
July 13, 2007
i cant believe i spent my money on this movie.. the previews were so misleading..the worst horror movie i watched in a long time. do not even spend money on renting it. It wasn't scary at all and defenetely not what i expected. More of a psichological drama than anyting else.
July 10, 2007
I thought it was an excellent film with non stop action and good plot twists.Steven King has done it again.
July 09, 2007
So short and the movie has alot of talking in it and that wat makes the movie boring for most viewers (nerds might loved this movie)
July 09, 2007
Tributefan: It was an ok movie. Much better than other horror movies. 3. 85 out of 5 stars
July 08, 2007
the movie had moments where i was actually scared, but i loved it purely for the fact that it was starring john cusack!
July 08, 2007
Reminded me of an old "Murder Mystery" radio show..interesting idea, but the way John Cusack started delivering his lines became comical instead of scary..not enough of Samuel L. Jackson's character..
July 08, 2007
one of the worst horror movies i've ever seen
July 07, 2007
it was a pretty good movie. not a gorefest like most horror movies are these days. very suspencful, and it makes you jump alot. good story. good acting, didnt look fake. 4 Stars. Beebs
July 06, 2007
Good Movie. Suspense. The lead was really well played....good job Cusack. Didnt see much of Jackson. At one point thought o no did he dream it??? but twisted onwards to a good ending...........
July 05, 2007
I want my money and time back!!
July 04, 2007
Disappointing at best.
July 03, 2007
it wasnt half bad but if you like an old classic "ghost story" drama? then this is quite tha cup of tea you deserved!
July 02, 2007
shitty ending, damn scary otherwise
July 02, 2007
IT WAS AWESOME OMGGGGGGGGGGG!!!!!!!!!!!!!!!!!!!!
June 29, 2007
Great Stephen King movie... Lots of suspense. Better than a slasher pic.
June 29, 2007
worst movie ever i have seen but i am going to see it again for the 1408th time, ironic i think not
June 29, 2007
I went into the movie with a biased oppinion, expecting it to be another cheap horror however, it wasnt so bad. John Cusack's role was well fitted and very well played. The plot was well scripted and very twisted but it also got very repetitive and predictable. Overall it was better than expected and the ending was extraordinary.
June 26, 2007
SCARY!!!!!!!!!!!!!!!!!!!!!!!!!!I love the ending............
June 26, 2007
1408 is better than 300!
June 26, 2007
Old fashioned thriller, a bit predictable in parts but had some good moments.
June 25, 2007
this movie was amazing John Cusack is an amazing actor... me and my BF saw this movie 2 days ago and hes still shaking lol. i Recommend this movie to any and everyone who needs a good spook :)
June 25, 2007
a total creepshow.. just not cool .. wait for the DVD
June 25, 2007
pretty good but not scary at all
June 25, 2007
this movie was creepy as hell!! made me spill my popcorn lol
June 24, 2007
so bad, not scary except brief seconds of the movie, what trash i want my money back
June 24, 2007
I saw this Movie yesterday, and I had thought It was a really good suspense Thriller with a really good plot too as well. Good acting by John Cusack, and Samuel Jackson too as well. I really enjoyed this Movie.
June 24, 2007
I found this movie started off really scary but the fright changed to just a weird story at about 3 quarters in. If they could have continued the creepy scenes could have been great. Decent ending. 3 stars.
June 24, 2007
I just don't understand the contravening one star ratings on this site when the consensus on RT and IMDB is that it's a very good film. And I would have to agree. Very poor taste from some members OR ignorance.
June 24, 2007
Great movie really intense parts keeping it exciting
June 24, 2007
2 stars at best - typical Stephen King. The movie ends and you feel like you have been ripped off. I was expecting more.
June 24, 2007
Give my $ back. I yelled out "this is crazy" inside the theater
June 23, 2007
everything it should be, almost. john cusack is refreshing as a thriller star. points to samuel l. for being as cool as ever.
June 23, 2007
this movie was like the old stephen king stories. good flick
June 23, 2007
It definitely had some unique elements to the movie that made it more interesting than the regular slasher/horror/thriller flims as of late. While not perfect, as some of the ideas were lackluster, overall it was a good film. 3.5 stars would be my rating...
June 23, 2007
the best stephan king thriller movie ever made
June 22, 2007
John Cusak was awesome in this movie. Such intensity...it was a really good movie.