17 Again
Thank you for rating this movie!
Read your review below. Ratings will be added after 24 hours.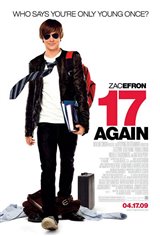 2.97 / 5
User Rating
Based on 1338 votes and 94 reviews
---
Please rate movie 1 to 5 stars
Showing 1 to 50 of 94
February 03, 2010
was good 4 stars
September 07, 2009
honestly this is a pretty darn bad movie, 2 stars at max!
September 06, 2009
I liked it
September 03, 2009
like a more aproppiate version 13 going on 30
August 16, 2009
loved it totally awesome great comedy about being 17 all over !
August 09, 2009
good movie
August 04, 2009
better than any one else is saying
August 01, 2009
a cute, fun, easy to watch movie.
July 31, 2009
Funny at parts and good storyline a little corny but i'll give it 3 stars
July 21, 2009
wow wowwwwwwwww
July 09, 2009
Great movie.
June 30, 2009
wow!17 again was amazing.I had alot of laughs about mathew perry and zac efron. I hope I can see it again cause it rocked! all you people out there who havent seen 17 again you have to see it. the time I went it was full
June 25, 2009
I enjoyed Matthew Perry's performance more tan Efron - though Zac did a great job portraying the young Mike. Loved how the story flowed and was moved by the moral of the story.
June 17, 2009
Zac Efron is such a good actor. Zac Efron and Micheal Perry did a good job of switching from young to old and see Zac Efron cry in this fil brought tears to my eyes!!
June 13, 2009
Pretty cool
June 06, 2009
This movie is what it is. It will please the tweens and amuse the young moms who were in high school in around 1989. I was in grade nince that year, and REALLY enjoyed Zac's dance with the cheerleaders to C&C Music Factory. It's been a long time since I've seen anyone do the Running Man. Although enjoyable, I would suggest you wait and rent it.
May 21, 2009
again and again, when will matthew perry ever learn the true lesson?
May 21, 2009
nono, I don't want to go back to 17 again after seeing this low rated movie! LOL
May 18, 2009
i rocks and i is very funny it has cool stuff
May 18, 2009
i love you zac !!!!!!
May 16, 2009
I was surprised how good this movie was!! Zac Efron and the cast were hilarious. Though, I was glad it wasn't a complete child movie, there was swearing and sexual content but that was what brought the humour. I recommend this to anyone who wants a good laugh.
May 16, 2009
this movie will ,ake you cry because it did for me
May 11, 2009
So much funnier than I expected.
May 10, 2009
this movie is the best in the world
May 08, 2009
best dang movie ever!!! go see it lol but there are some stemee scenes!! hehe
May 07, 2009
its sooo funy and hes sooo hot!
May 02, 2009
its awsome!!!!!!
May 01, 2009
Movie of the year... 5 Star's!!!
April 30, 2009
its a laugh comedy movie love it! :]
April 27, 2009
Some people criticized Zac Efron; however I felt he did really well. I found the movie entertaining, but there were not a lot of jokes that had me laughing out loud too often. I found Thomas Lennon really funny. To enjoy this movie you have to appreciate all the over-the-top corny parts. So anyway I wouldn't say it's hilarious but it's not bad at all. 3 stars from an adult. I do think all 11-17 year olds would love this movie and give it 5 stars.
April 27, 2009
I had high expectations. This movie not only met them but exceeded them. I loved it! Will definitely watch again and get it on DVD when it comes out.
April 27, 2009
It was an amazing movie!! It was very well made and when it finished I wanted to just see it again! Oh, and Zac Efron is really hot and did a really great job!
April 27, 2009
zac is soooo hotttttttttt
April 26, 2009
sooooooooooooooooooo good
April 25, 2009
It was a surprisingly pleasant and modern twist on an old formula-type movie, made popular in the 80's, with such titles as "Father Like Son", "Freaky Friday", and "Vice Versa". I guess, sometimes, "old CAN be new again..."
April 25, 2009
LOOOOOOOOOOOL. IT WAS SO FUNNY. LIKE, IM SO IN LOVE WITH IT. HAHAHAHHA. HAHAHAHAH LOOOL ROOOFL LMAO, LMFAO. SO HILARIOUS. WATCH IT.
April 25, 2009
It's a great family movie!!!!!
April 25, 2009
greatest movie of the year
April 25, 2009
very entertaining.
April 25, 2009
The movie was alright.. IT GETS REAALLY FUNNY in the middle. I would give it like 3 in a half or something like that.
April 25, 2009
Cheap ALL OF ME knock-off; Efron couldn't act his way out of a paper bag.
April 24, 2009
this movie is awesome!!
April 24, 2009
HI! I went to see the movie today, with my 8yrs old granddaughter... We both really enjoyed this movie... Zac, is a very good actor...This is a "light" comedy... But, gives good advice to "teens" & adults... I recommended highly.... I would even go & see again..!!! Congrats!!!!
April 24, 2009
it rocks!!!!!
April 24, 2009
It was a great movie! It was funny and touching. It's a must see movie.
April 23, 2009
Surprisingly, I actually enjoyed this movie. There was some weird moments but overall it was funny.