2046 - User Reviews
Thank you for rating this movie!
Read your review below. Ratings will be added after 24 hours.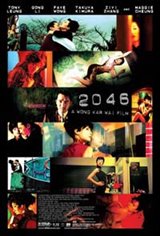 ---
Please rate movie 1 to 5 stars
Showing 1 to 10 of 10
March 29, 2006
psychologically challenging the behavioural memories which trigger the submergent state of a lover and several ex-lover`s past. both intriguing and inquisitive. I truly enjoyed it. _WF
January 16, 2006
I`m sure there`s a sublime message in there somewhere but it doesn`t help the story from sucking large. I have to write quickly, this is one lost memory you won`t want to recapture.
January 04, 2006
I think it draws too much on the previous films (Days of Being Wild, and In The Mood For Love) for the casual viewer. It is the last part of a trilogy, for those who are unaware. There is a lot of detail and information that is not told, but expected to be understood via the first two films. Anyway, I enjoyed 2046 very much and gave it 5 stars. Wong Kar Wai does it again.
November 15, 2005
Boring, boring, boring!!
November 12, 2005
what the hell?? it was a challenge for me to try to watch the whole movie, so damn boring and dunno they it`s about. I lasted 24 minutes.
October 24, 2005
Great third installment of Wong Kar Wai`s trilogy that began with Days Of Being Wild, continued in In The Mood For Love, and finishes with this film, 2046. If you haven`t seen the previous two films then there are many many references you will not see, but thankfully you don`t need to know them to enjoy this movie in itself. Tony Leung`s role in this one is much more smug and therefore unlikable in 2046, but by the second half of the movie (the storyline with talented actress Faye Wong) we finally sympathize and almost root for him. 2046 is a great film that I would recommend to anyone. Two thumbs up!
September 27, 2005
This film is absolutely AWESOME !!! You can`t miss it !
September 16, 2005
glimpses of a guy`s character
August 15, 2005
WOW! This movie was good...the acting, the music accompanied the emotions...go see this movie!! Forget about hose Martial Ats movie like Crouching Tiger and Flying Daggers, and step into 2046!!!
August 12, 2005
Consider this film a combination of short stories, much like EROS, previously done by Wong. 2046`s plot unfolds layer after layer when the story goes, as you will understand the beginning/ ending as the score cues to every beginning to ending of a relationship of the character Chow. The mood is appropriate for the mystery/ doubts we each have in side of us about the unknown of relationships... Nicely done.