21 Grams - User Reviews
Thank you for rating this movie!
Read your review below. Ratings will be added after 24 hours.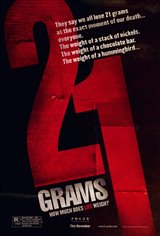 4.38 / 5
User Rating
Based on 12121 votes and 29 reviews
---
Please rate movie 1 to 5 stars
Showing 1 to 29 of 29
April 29, 2006
BENICIO DEL TORO IS MAGICAL.
December 27, 2004
movie - ok. didn`t like the title... taht`s not what the film was about.
March 20, 2004
Phenomenal. Naomi Watts and Sean Penn are nothing but spectacular. Clever plot sequence, excellent directing and editing. A must see.
March 19, 2004
Very realistic and powerful, these things do happen...
March 19, 2004
Not very good, boring
March 14, 2004
One o fthe bets films of the year. The style is in the Memnto style, and excellent acting by Del Toro, Watts, and Penn. Also directed and written by Spanish people, way to go. A must see and a movie to have in your collection for sure. Watts, you are gorgeous.
March 10, 2004
absolutely brilliant!
March 08, 2004
an amazing movie... one of the best seen in this year. hope to see more movies like this ...
February 23, 2004
Amazing from start to finish - actors were absolutely brilliant, and the story was heart wrenching. Films are supposed to make you think and feel and this one does. Filmmaking and story telling at its finest!
February 15, 2004
horrible.
February 11, 2004
the best film i see this year.
February 08, 2004
Luv it, one of the best movies i`ve ever seen, but sad sad sad
February 08, 2004
Don´t leave home to watch this freak movie...it make no sence..really boring ! without a story! it´s a real crap !
January 30, 2004
Dramatically different. Very Pulp Fiction-like. Once you figure out how the plot and character development`s unravelling, you`re hooked. Naomi Watts does a superb job that goes way beyond the damsel in distress role. She fuels your emotions and takes `em for a ride. Sean Penn`s acting is sensational. Hopefully Madonna will be praising his talent. Benicio Del does a great job too. A screenplay so well done you`ll think about it for days.
January 28, 2004
The style of the plot development, along with super acting held my intrigue the entire duration.
January 25, 2004
I wanted to leave after 5 minutes.
January 25, 2004
I think that this movie is very thought provoking and that the cast did a great job in bringing the characters to life and making them seem so real. It is a little hard to follow as the sequences are out of time and it is also depressing due to the content but as an overall movie I thought it was very well done.
January 22, 2004
39 times used the F word, gross sex, pukeing chunks...what a waste of the actor`s art.
January 19, 2004
One of the absolute Best movies of the year!!! Very real, thought provoking and extremely concious raising!! Fantasic performances from the entire cast!!! Best movie experience I have had in a very long time!
January 18, 2004
It was a very real movie. I loved it.
January 18, 2004
Absolutely no Joy; deeply moving; leaves one in shock
January 16, 2004
great movie luv it!!!!!!!!!!
January 10, 2004
This is a very riveting, deeply feeling piece. I was stunned by the script, the acting, the intimate tone of this film. I felt so close to these characters and really took something away from this movie. Disturbing, and not always easy to watch, but absolutely one of the most compelling things I have seen in a long time.
January 05, 2004
It was an Amazing movie!! Great acting by everyone involved but it was very depressing.
January 04, 2004
I loved it....Great movie, but not for everyone, I guess. Sean & Benicio are incredible.
January 02, 2004
Certainly different and interesting cinematography. Sean Penn has really been choosing some very dynamic roles in the last few years, including this one. If your looking for something a little different, this is the movie to see. Surprised to see that the users of tribute gave it a poor rating! Personally I give it 4 stars.
December 30, 2003
Was a great film. More movies should be made in this fashion. You won`t find any `cheese` with this one. Good story, good character developement, and a fantastic ending.
December 29, 2003
Wow, this movie didn`t get a very good ratin gon here. I thought it was a great movie with some good acting. I felt really involved with the characters and I liked how it all came together in the end. it was an interesting concept as well. My only complaint is that it jumped around to much from the past to the present unnecessarily but other than that, it was a good movie.
December 12, 2003
i loved it. I thought it was one of the best movies i`ve seen in years