21 - User Reviews
Thank you for rating this movie!
Read your review below. Ratings will be added after 24 hours.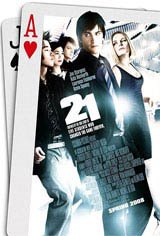 3.59 / 5
User Rating
Based on 1221 votes and 53 reviews
---
Please rate movie 1 to 5 stars
Showing 1 to 50 of 53
August 18, 2017
I enjoyed this movie and being based on a true story marvel on how the main character got away with it.
May 29, 2011
I love this movie. It has excitement, and it is pretty cool to know this is based off of something that has actually happened...
December 31, 2008
This is my most favourite movie for 2008! I really wish I am just as smart as Ben Campbell!
December 03, 2008
This movie had a good concept but as the film went on it became a predictable teen thriller that wasn't sure if it was trying to be a action/adventure/gambling movie or a drama about doing the right thing it was dull and univentfull
November 02, 2008
The movie is great. Nice concept. I love the characters. OVERALL AWESOME movie.
July 22, 2008
great movie
July 01, 2008
a lot of fun love the casting
June 28, 2008
this movie was he best I think im going to see again tonight and i cant wait the cast was really good
June 20, 2008
this movie is horrible
June 13, 2008
the best movie ever made
June 13, 2008
Average...Really average
June 07, 2008
That was such a good movie! awsome story line.
June 07, 2008
this was a good poker movie
May 30, 2008
It had a new plot, but kind of predictable. Well a lot predictable. The characters are kind of one dimensional, but nonetheless I still enjoyed it.... for some reason predictablity doesn't bother me all that much.
May 24, 2008
Great the first time this movie was made... The Last Casino
May 14, 2008
excellent movie a must see
May 09, 2008
totally cool!!!
May 08, 2008
21 was a intersting movie my fav person was BEN CAmpbell
April 29, 2008
this movie really cool interesting:D
April 28, 2008
Uh. Yeah. It totally wasn't my thing. I mean, I suppose it was all right. It was predicatable and boring in some parts, as I expected. Buuuut. ... I adore Aaron Yoo, and was happy to see him in such a popular music like this. Yeah. I'unno. It's worth checking out, I guess, but don't expect too much of it.
April 27, 2008
Is every Hollywood script generated by a computer these days? Shallow, one dimensional characters tell a predictable story. Everything you need to know is in the preview. I sat restless and bored throughout the entire thing waiting for a decent plot twist, but all I got was a fairytale ending. Not the worst movie I've ever seen but it's down there.
April 26, 2008
This movie was really good worth seeing!! when it comes out on dvd worth buying
April 20, 2008
Very good movie. Well directed and very good actors. A must see. You don't need to be a cards or casino fan to like this movie.
April 19, 2008
This Movie is one of the best movies i have ever seen! i loved it
April 14, 2008
This movies is really good everyone has and go see it right now??????
April 14, 2008
it was a great movie a bit too long but great
April 11, 2008
Great movie! Bosworthy is totally HOOOOT! If you like pirate booty, you'll love this chick flick!
April 11, 2008
Now THAT is how you make a movie!!! Well done.
April 10, 2008
GREAT MOVIE!! 5 stars i think Jim Sturgess is gonna be a big star soon. his performance was awsome
April 10, 2008
The fillm is so Hollywoodized that you have almost no clue what really happened and what was tossed in to make it "hot". What the MIT people were doing was not illegal, but Las Vegas does look after its own interests. It seems more likely that someone attempting to do what they were doing would be very subtil, almost invisible rather than the excessive displays of excitement and conspicuous consumption portrayed in the film.
April 10, 2008
This movie was awesome and i am not even kidding I do not like math but this movie made it better with action and comedy thrown in a bit confusing though
April 08, 2008
Great movie! Surgess is going to be a big star - he has the whol e package! 5 stars!
April 06, 2008
Slow movie, but I enjoyed the humor. It was good, don't get me wrong, but it's needs a little something more. If I end up reading the book and compare, I'm sure I'll be disappointed.
April 04, 2008
the movie was worth watching, however, I was expecting it to be more like the book, and the book was much better.
April 02, 2008
I love Kevin Spacey in these type of rolls. He's great with Jim Sturgess too. I predict Sturgess will be a big star soon.
April 01, 2008
A fun romp through vegas and the potential fun you could have with your alter ego there. A bit far fetched in the reality department even if it is 'based' on a true story. And seriously, why did they have to play the same tables each time, thats a recipe to get caught. Overall, good but predictable. 3
April 01, 2008
Bosworth continues to amaze.
April 01, 2008
Super flick, especially if you love baseball.
March 31, 2008
This movie was really good and Jim Sturgess is a sexyyyy man!!
March 31, 2008
only half this true story was true ...hollywood ending....zzzz
March 31, 2008
most of the time I am hardly impressed by anything unless it is good. I am a movie buff and this movies was clever, very entertaining and beautifully delivered. It is worth the $10 to watch it in theaters.
March 31, 2008
amazing film of the year. welll made film of the year of 2008.
March 30, 2008
One of the best movies of the year so far, lots of numbers and perfected card playing scenes and one of the best films of its kind since Rounders and Lucky You.
March 30, 2008
21 was an excellent movie. The story was great, the acting was great, and it was just a great movie experience. This movie had every element a good movie needs, thrills, excitment, good plot, as well as some comic relief. I didn't find it at all predictable. It is definitly worth seeing.
March 30, 2008
Very good,Stacey was excellent.... Saw it at the new AMC theatre in downtown Toronto .. it rocks!If you can see it there... excellent picture..
March 29, 2008
Yea, at the end of the movie you realize that it was predictable but other than that... Its a really good movie to watch
March 29, 2008
Awesome movie -- kept me and my friends interested from start to finish. Definitely worth seeing!
March 29, 2008
would have been much much better if they had actually followed the book and the real story. I guess for the sake of the types of movies people are looking for today with little to no depth and pointless unrealistic scenarios it makes sense.
March 29, 2008
this movie is nothing spectacular, but nothing wrong with it either. The twists are predictable. Overall enjoyable, but nothing lost if rented