47 Meters Down - User Reviews
Thank you for rating this movie!
Read your review below. Ratings will be added after 24 hours.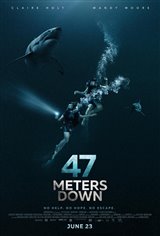 ---
Please rate movie 1 to 5 stars
Showing 1 to 35 of 35
December 28, 2017
If you like to watch hysterical women for a full 87 minutes, this is the movie for you because that is just what it's all about. You almost hope the sharks will eat these silly girls just to put and end to their brainless and endless racket. I can't believe anyone would rate this garbage film higher than two stars.
October 26, 2017
Holy fish-bait Batman! The ending was kewel but the rest was chum for sharks. I was hoping they'd run out of air so that the movie would only last 25 mins.
September 30, 2017
Really really boring. Hoping the sequel, 48 meters down, will be better.
August 27, 2017
A 21st Century JAWS.
August 21, 2017
Good story. Kept me on a sharp edge.
August 20, 2017
I was expecting so much more. Instead, lots of dull moments and an underdeveloped plot that was dragged out to fill up your time. Acting was ho-hum. I was excited about the concept of the movie, but it fell short and left me bored and underwhelmed.
July 21, 2017
Great movie but could be a bit boring when trying to develop plot!
July 04, 2017
It relied too much on jumpscares
July 04, 2017
A dud...don't waste your $$$ or time.
July 03, 2017
It doesn't need a great story line idiots it's a shark movie in a cage. Shark movies can only do so much. Stop putting it against Jaws no shark movies will top that. Different spin but wasn't the best acting and not much action. Give it 2.5 stars.
July 02, 2017
No so great. We left after the 20 minutes the movie started.
July 02, 2017
It was a great movie. Very intense and leave you breathless! If you loved "the Shallows" you will certainly love this one too!
July 01, 2017
My money back. We left in the middle of the movie.
July 01, 2017
Just watched this movie..was great from start to end. Kept me on my toes. A lot of scary moments put I rated Excellent! I don't know why they say it was done in a pool or bad views...please go and watch it for yourself..I recommend it a must see. It will leave you thinking at the end about if it was a dream or did it take place..
June 28, 2017
No story. Filmed probably in some one else pool. Lol.
June 28, 2017
Lame and boring.
June 27, 2017
One star. I can't rate with zero stars.
June 27, 2017
What a joke
June 26, 2017
Boring movie.
June 26, 2017
Movie was too dark and zero background story. New directors only make reeboots. Nothing original
June 25, 2017
Excellent shark thriller it will keep you at the edge of your seat most of the time. It's kind funny the same people is saying don't like this movie because it's "fake" are the same people is giving 5 stars to Wonder Woman, Transformers and other 100% pure fantasy stories.
June 25, 2017
Loved it up until the last five minutes. Had it ended 5 minutes earlier, would have given it 5 stars.
June 24, 2017
Jaws had a more background story. Characters were more defined. This movie was a 99 cents story.
June 24, 2017
What a stupid movie! I left 1/2 way through.
June 24, 2017
There was no storyline, too dark throughout whole movie, no character development whatsoever. No change in setting the whole time they are just in a cage. No emotional spectrum.
June 24, 2017
Can't duplicate Jaws.
June 24, 2017
Too fakey. Boring and repetitious. A waste of money and time. Monotenous. Terrible movie. Sorry. It is.
June 23, 2017
Of course. This should satisfy the appetites for shooting fish in a barrel.
June 22, 2017
A great shark movie. Not a classic like Jaws of course, but plenty of make you jump moments. A little disappointed in the way the ending was handled but it was a fun 90 minutes.
June 22, 2017
JAWS for a new generation.
June 18, 2017
We really enjoyed the movie. There were a few parts in the movie when the entire theater let out a gasp. I also used the movie as a learning tool with my pre-teen daughter. I told her that they should never have gone on a boat with people they did not know.
June 17, 2017
It is an original shark movie it has excellent action is scary. It makes you realize that there are sharks in the water periods I would recommend this movie to anyone who would like actions and scary sharks.
June 10, 2017
Another reboot of Jaws. Nothing original from this movie.
May 02, 2017
OH HOW MY GOOD MAN HEY I JUST WATCH THE 47 METERS DAWN THE MOVIE PREMIERE AND IS VERY SCARY AND IF ANY ONE WHO LIKE THIS SHARK MOVIE PLEASE TRY TO WATCH THIS SCARY MOVIE PREMERE AND I MAY BE TO WATCH THIS MOVIE IN THE MOVIE CINEMA AGAINS AND THANKYOU .