(500) Days of Summer - User Reviews
Thank you for rating this movie!
Read your review below. Ratings will be added after 24 hours.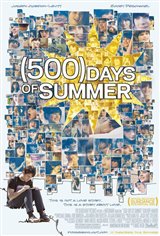 ---
Please rate movie 1 to 5 stars
Showing 1 to 38 of 38
September 21, 2021
It is what it is. Who was that asian girl in the sweater? I wouldn't throw this movie out a plate glass window like I did to Ricki but that is faint praise. This is a movie for victims. If you're soft you may go for it.
July 26, 2018
Zooey's character is like a paper cutout of a woman that some dude created and was like, 'yeah, this is the perfect woman.' So flat.
July 26, 2018
A good movie but unfortunate that it relies so heavily on the manic pixie dream girl trope rather than making Zoe's character more multi-dimensional.
February 04, 2018
Smart, charming and touching romantic comedy. Joseph Gorden Levitt & Zooey Deschanel sparkle in this bright and interesting tale in the struggle to find a compatible lover. The music is exhilarating in this feel good film.
July 19, 2011
awesome movie love to watch it agian
October 22, 2010
Honestly, I was not interested in watching it at all when it came out. But everyone said it was great. So the other day I rented it and... I loved it! Such a good movie!
January 16, 2010
This movie is absolutely FABULOUS. I love it. Zooey Deschanel is a new favorite actress of mine. I love that it's set in Los Angeles, one of the most beautiful cities in the world (as it was said in the movie... I love there). Joseph Gordon-Levitt is a amazing actor, with adorable boyish charm that will captivate the hearts of viewers worldwide. This movie was definitely #1 on my list of top movies of 2009. The soundtrack's also pretty great. I love everything about the film. :D
November 28, 2009
AWSOME MOVIE
October 16, 2009
A cute tale of love and... not love. Poor guy can't catch a break... For me it's the supporting cast who really make this movie shine though. Matthew Gray Gubler is exceptional! Great comedic timing on his part. He's always passionate about his work and this is no exception! 5 stars overall... 5 stars just for Matthew!
September 21, 2009
Good acting , but the story was not that interesting.
September 17, 2009
The Year's Best Film thus far
September 07, 2009
Fantastic movie. Probably the best romantic comedy I've seen (I'm a guy so take from that what you want). This was not a chick flick, just a movie about a relationship, and it is VERY funny. The comedy keeps it bearable because like someone else said, a lot of the movie is pretty depressing, but it is very well written and acted. Great story, I recommend it to everyone. Two thumbs up!
September 04, 2009
I enjoyed this movie. The layout was unique and equally effective. The characters were deeply developed, again equalled flawed. It doesn't have the ending you might expect, you might even walk out of the theatre a little depressed, but that's what made it fun for me and my wife. I do kind of hate the character "Summer".
September 01, 2009
So funny, it really touched my heart. Makes me want to have summer all the time.
August 31, 2009
Great movie! Funny and entertaining with deeply developed characters. Definately connects with the viewer. On a negative side, the story could be delivered in a much more streight forward way, I did not enjoy spending first 40 minutes of the movie figuring out what was going on...
August 30, 2009
I loved this movie it was really good. It is a fun movie you will enjoy
August 17, 2009
Loved every minute of this movie. Broke my heart in places, wonderful acting. Unique story telling and very entertaining.
August 17, 2009
Complete role reversal. Usually it's the woman who is pursuing a relationship, even when it's not really there. And then gets her heart broken.
August 16, 2009
The movie shows emotional cruelty to a nice guy. Shows how shallow, unpredictable, inconsiderate,immature and heartless women can be sometimes.
August 14, 2009
This is the perfect girl in the world, to bad most are shallow and materialistic. GREAT MOVIE!
August 13, 2009
One of the greatest anti-romance film ever made.
August 13, 2009
"there's always more fish in the sea" never made more sense to me after watching this movie..
August 12, 2009
Excellent movie! Charming, funny and realistic! A fresh love story!
August 12, 2009
To bad most girls aren't like this
August 11, 2009
Why can't women be like this girl?
August 11, 2009
Goes to show that Hollywood doesnt have to spend $175 Million (see GI Joe) to make a movie that people will enjoy. Give us more movies about relationships too please and thank you.
August 10, 2009
so so so cute and nice and creative and well thought out very enjoyable and different
August 09, 2009
Amazing movie!! A must see!!! You wont regret it. Definitely worth making the trip to the theatre. :)
August 08, 2009
such an awesome movie...it's blunt, down to the point, and real! what more can you ask for?
August 06, 2009
It's deeper than it looks
August 05, 2009
Very charming and dare I say "quirky". It's a romantic comedy, but not in the traditional sense. A movie for grown-ups...it's not laugh out loud, but I caught myself smiling through the whole thing. Every one will see something in themselves in this couples relationship.
August 04, 2009
Beautiful
August 02, 2009
This was a VERY cute movie! Love every minute of it.
July 29, 2009
One of the very best movies of all times! Funny, moving without being sappy,thoughtful and clever. A multi-presentational format, that keeps the movie zipping along and keeps the audience thinking!
July 28, 2009
I love this movie.The idea is very original and unlike other love stories. It's also very real! Can't help but falling in love with the actor,he's very charming. Not a fan of Deschanel but she's pretty good too! and I LOVE THE WARDROBE!A MUST SEE!SKIP THE UGLY TRUTH AND INVEST YOUR MONEY IN THIS MOVIE INSTEAD!
July 26, 2009
entertaining, but depressing at the same time. in fact, this movie is too depressing for a date movie. good music scores.
July 21, 2009
not bad. it was a good story