9 (2009) - User Reviews
Thank you for rating this movie!
Read your review below. Ratings will be added after 24 hours.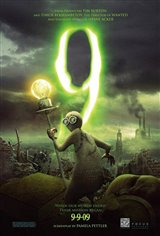 ---
Please rate movie 1 to 5 stars
Showing 1 to 36 of 36
May 17, 2010
It was neat and creative, dark and ominous, enjoyed everything but the ending - pure cheese!!
March 15, 2010
feel like i've wasted my money! good animation, but eak plot. too little action. expected more. acting good
January 25, 2010
this movie was really good but in a way it could have been better because for one there could have been a lot of action that of course is not for young children and in my opinion this movie should have been rated between 14A for teens or 18A for adults
January 22, 2010
wow at first i thought this movie was going to be filled with a bunch off action but all i got was a bunch of puppets who you later on in the movie learn about their skills and abilitys
January 03, 2010
its not what i was hoping for..
December 28, 2009
i think this movie was great and the plot may have been a little weak but the movie itself was amazing and shane acker and tim burton you may have had a weak plot to this movie but you certainly pulled it together with all of the action, adult like scenes which is of course not for kids and you completely showed us why the world would be taken over by machines if the scientist didn`t create those puppets in the first place
December 28, 2009
i thought this movie was breath taking and the whole movie itself was amazing the acting for each character was good the machines were like the dark devil side and the puppets were like angels and 9 reminded me like he was a god sent from heaven and this is like the story of jesus but instead it was in an unknown and i think from the photo this would be the world itself right now if angels of heaven never existed and if demon of hell existed
December 28, 2009
this was a really dark and scary movie like if you had to watch this movie you would be flat out afraid and this is obviously a movie that isn`t for kids under the age of 10 and this movie was funny at the end like did you see the twins they fell right off the certain object that played music and my favourite characters were 9 and 7 but 5 and the twins for me would be a close 2nd favourite
October 31, 2009
best pg-13 movie ever
October 13, 2009
One of the good movies so far.
October 12, 2009
i thought this movie was fabulous. To all those haters out there, didnt you notice that what had happened to the Earth to make it the way it was is exactly what we re doing to it now?? I thought it was very thought provoking, and each characters emotion was played so well and very relatable if we were ever put in that same position.
October 06, 2009
Completely boring! I played games on my phone while it was playing....couldnt wait for it end. No story line or substance. A complete waste of money!
October 03, 2009
While it does have a relentless "hope in the face of the apocalypse" tone that can be a bit trying, the concept is good; the animation is amazing, and the voice cast stellar. Its flaws are not enough to make it less than one of the best movies of the last few months.
September 25, 2009
Funny sci-fi with some of the most lovable characters you'll ever meet!
September 23, 2009
The animation was good, the plot not so much. It couldn't keep me interested and quite frankly, I'd have been more interested if Tim Burton had made a movie about humans fighting and defeating the machines then I was about sackdolls mucking about after humanity dies.
September 22, 2009
Cute movie . . . but empty. I expected more from Burton. The movie has his tone, but it goes nowhere.
September 22, 2009
SO MUCH ACTION YAAAAAA!!!!!
September 20, 2009
Weak character development, poor plot, and it hops back and forth from genre to genre throughout the movie. Do not believe the commercial hype, this movie is by far the worst I have seen this year.
September 18, 2009
terrible
September 16, 2009
Boring movie with poor character development and very little plot. Easily one of the worst movies I've seen in a while.
September 15, 2009
This movie was visually breathtaking. Yes the plot was a tad thin but the visuals alone were worth the price of admission.
September 14, 2009
Tere is so much more to the movie...lot's of religious undertones and interesting Biblical references...I found it fascinating and very thought provoking!
September 14, 2009
This movie was mediocre, nothing spectacular. Loved the twins tho, cute!!
September 13, 2009
Animated remake of DISTRICT 9 is beautifully done but pointless.
September 13, 2009
Visually impressive, lacks a solid story line and charachter voice acting is weak making it hard for the charachters to come to life. A sad disapointment :(
September 12, 2009
Grate Job! But poor story!
September 12, 2009
beautiful movie cinimaticaly, just not all that much substance.
September 11, 2009
I loved it. I would see it again for sure Love you Tim Burton!!! :P
September 10, 2009
Not what I expected. I walked in thinking to watch a edgy, exciting movie only to watch the same ol' stuff with a different twist. The plot was missing and found myself waiting for something to happen. "Writer's Strike, how you leave a bitter taste in my mouth."
September 10, 2009
Awsome xD go see it any 1 who reads this NOW
September 10, 2009
This movie was just alright. Nothing amazing. I've seen a lot of animated films in my time and this ones no where near the top.
September 09, 2009
really good!!
September 08, 2009
This movie was amazing !! It was just amazing!!
September 05, 2009
Saw the sneak peek - its visually stunning.
September 03, 2009
DISTRICT 9 is flat-out amazing! I can't recommend it enough!
September 03, 2009
amazing