A Good Day to Die Hard - User Reviews
Thank you for rating this movie!
Read your review below. Ratings will be added after 24 hours.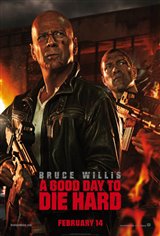 ---
Please rate movie 1 to 5 stars
Showing 1 to 50 of 57
July 06, 2013
Pretty boring movie
June 12, 2013
Probably good day to stop making these movies. The first one was great (1988!!). I didn't find this movie kept my attention. Lots of stunts but very poor story line.
June 10, 2013
I actually fell asleep near the end of the movie. That's the very first movie I ever fell asleep in. Don't bother to watch this. You're better off with the old series
June 06, 2013
Baaaaaaaad to the bone, Brucie.
June 04, 2013
As George Clooney can't offer enough apologies for the garbage that oceans 12 and 13 were neither will Bruce Willis. Nothing is good, not even passable in this pile of vomit.
June 03, 2013
The action is exciting, however the frequent use of the Lord's name in vain turned me away. When driving the truck Willis used Jesus' name twice in vain. I turned it off after this. Movie is extremely violent, but the above mentioned issue is a deal breaker. Not watchable by anybody who believes in God.
May 29, 2013
Nothing surprising. It was the crap I expected.
April 28, 2013
Plot, what plot you need. Some bastard somewhere decided movies need something to drive it and you all lap it up like dogs. A movie is entertainment, see it for the chicks, see it for the violence and definitely see it for your favorite movie actors doing what they do best. Skyfall had no plot and you all seem to like it. Blah!
April 05, 2013
If you like a movie that is just someone running away from something, weak story, poor acting, very predictable: you'll LOVE this low-brow action flick.
March 23, 2013
Brain dead action that boarders on insulting, script haha what script!
March 14, 2013
Dumbest story line. If you like car crashes, see it. Otherwise see something else or stay home. Cornball at its best. Yuk!
March 11, 2013
Lots of impossible action: fires, explosions, gunfire and car chases. But that is why we like them. Besides Bruce Willis is in it. He looks good. The actor, Jai Courtney, who plays his son is cool too. Go see it, if like Bruce.
March 05, 2013
Awsone movie must see
February 28, 2013
It always amazing movie it die hard
February 28, 2013
It's just like the other Die Hard movies. Go and see it, it's fun.
February 28, 2013
THE VERY BEST!
February 27, 2013
THE WORST DIE HARD EVER...WHERE IS THE PLOT?
February 27, 2013
Awesome movie 5 stars i say :)
February 26, 2013
More extreme than all the Fast & Furious juggernauts combined! I can't wait to see it again!!
February 26, 2013
Spectacular! It's movies like this that keep us returning to the cinema!
February 23, 2013
I thought the movie was awesome! It was funny, great acting, nice storyline. I'm not sure why people are hating on this movie because it is so worth seeing!
February 23, 2013
This is one of those movies which would have been better if it were a half hour longer. By the time they got into the meat of the plot the movie was almost over.
February 22, 2013
disappointing... and i went in with an open mind and not expecting much to start with
February 21, 2013
Amazing actioner with some of the finest digital effects ever observed on a motion picture screen.
February 21, 2013
Badly written, sloppily edited, poor visual effects, disinterested acting - this is, bar none, the worst of the series. If this rating seystem would have allowed it, I'd have given A good Day to Die Hard -5 out of 5 stars.
February 21, 2013
A modern masterpiece of the action genre.
February 20, 2013
agree w/ others this sequel is mostly over-the-top 'ouch' action (car/truck chase scenes) and being shot at incessantly [insane jumps-n-falls]. lacks original cat-n-mouse hunt but i'm fine with the change. dialogue does seem lame for father-son duo, but again, dialogues between grown estranged father-sons are rarely interesting and filled mostly with sarcasms of conflict. B.Willis does seem like a 'tag-along' character, and his supposed son, J.Courtney, seems a bit too Eastern European looking and could've played a 'local' in the region instead!!!
February 20, 2013
Frankly I'm surprised that so many people didn't like this latest Die Hard movie - come on, it wasn't that bad...! Those who couldn't see that there was a plot seriously need to take their head out of their a** and pay attention! Nowhere near the best movie ever but it was great escapism and very entertaining.
February 20, 2013
Brilliant, action-packed prequel to the original Die Hard.
February 20, 2013
The reviews are correct. I thought Willis was headlining someone elses movie. He seemed lost. Why he was tagging along is beyond me. The one liners from the previous movie are all replaced with 'I'm on vacation.' That's it. Decent action but It wasn't nearly the cat and mouse games like the last ones were. I'm disappointed but thanks for the scene points!
February 20, 2013
If you like action, go see it in IMAX ! Awesome enjoy André
February 20, 2013
It is not the original, but stillfun
February 19, 2013
Didnt go see it yet, but judging by the title, id say its a box office hit. if it has the name die hard in it, it make me hard, up for this movie that is.
February 19, 2013
The year's best movie.
February 18, 2013
People don't know what they're talking about -- this is the best DIE HARD ever!
February 18, 2013
I love Brice Willis, but this movie was his worst since Hudson Hawk. No plot. Made little sense. At points so out of focus that I looked around to see if others were wearing 3 D glasses. A total waste of time and money.
February 18, 2013
Yeah, that was bad. I wanted to leave early. Bad writing and stupid plot. Everything Bruce said sounded stupid. I wanted to die hard. Big fail. Zero connection between father and son.
February 17, 2013
Well father & son pretty much destroy everything in Moscow... & then move on. Lots & Lots of car crashes, plus the gun battles are overwhelming at time. Mindless but a little fun in parts....
February 17, 2013
Oh the whining and the complaining... geeze. This movie was hardly the end of the world people, but you wouldn't know it based on all the comments. Yes there was a plot, the action and acting was decent, I didn't see anything wrong with the footage or the way they shot it, and it did feel like a Die Hard movie. The best movie of all time? No. But it wasn't god awful either. Sheesh.
February 17, 2013
good movie all around
February 16, 2013
This movie was great. I don't understand the negative reviews. Sick twists, action, and effects! Die hard 3 is still my favourite, but this is a close second.
February 16, 2013
Sigh...
February 15, 2013
This movie was a huge disappointment. Bruce Willis mailed in the part, and the plot was completely idiotic. Save your money, if I could give this no stars I would.
February 15, 2013
I am a big fan of the die hard series and I am easily impressed but this one was terrible, bad acting, crappy plot compared to the original series, bad filming and garbage voice! literally milking the series for every penny left in it!
February 15, 2013
I love Bruce Willis and all the Die Hard Movies, but this one is not worth the price of admission. Thin plot, poor film editing, and Bruce just wasn't funny.
February 15, 2013
Need to be able to make a negative rating Too many out of focus scenes. Way too many fuzzy closeups during the car chase. sound is terrible, english dialogue sounds Russian.
February 15, 2013
Very disappointing movie. I love Bruce Willis and all of the Die Hard movies, but this one isn't worth the price of admission.
February 15, 2013
Awesome
February 14, 2013
Disappointing, poor acting, plot is really thin, the worst movie Bruce Willis has ever been in...sorry Bruce.
February 14, 2013
Mediocre movie..same old Bruce Willis..not bad action, but terrible acting