A Monster Calls - User Reviews
Thank you for rating this movie!
Read your review below. Ratings will be added after 24 hours.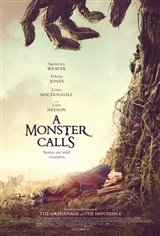 ---
Please rate movie 1 to 5 stars
Showing 1 to 22 of 22
January 17, 2017
It is a drama, and it does feel slow for someone like me who usually likes explosions and space ships and gunfights. But when it was over I said to myself: "Self, that was hands-down, no doubt about it, the best movie we've seen in a very long time." I loved it.
January 16, 2017
True, this is a very sad and relentless movie so if you have little or no time for something sad then do not see this movie. For those that want a film that touches on complex and thoughtful themes (childhood, abandonment, death, anger, redemption) then this will interest you. But, when you add a fantasy element to it, then the film opens up to a whole other realm. Some children do live in other "worlds" when trying to cope with things that are beyond their comprehension and ability to process especially when they don't have anyone to hold them and protect them as much as possible. The acting my the young boy is devastatingly effective, and although I did feel Sigourney was miscast, she did a decent job with a rather unkind character until you start to see the pain that she is also experiencing. The score is exquisite but doesn't intrude in the film, and the photography and sets are incredible. And, the redoubtable Liam Neeson is superb in his characterization. Without him and his soothing yet ominous voice, this film would not have worked, no matter how well the other parts of it did. Worth watching but bring kleenex.
January 15, 2017
I cried in this movie. My mom died of cancer almost 4 years ago and it's was hard to let her go. The morality and immorality of the society. Amazing after effects and very touching movie.
January 10, 2017
Amazing magnificent real heavy movie with fantasy monster but not what you think, in fact, a very moving and emotional film with great acting throughout all, so creative, heartbreaking, beautiful storytelling that you would be in tears from start to the end - wooow..Love it !!
January 10, 2017
A good well spend 2 hours of entertainment.
January 09, 2017
A lovely movie that quietly catches you up and sweeps you into Connor's world. Connor lives with his mother and goes to school but his mother is very ill and school has its own challenges. The movie is about life, and the power of stories; about find the truth and learning to face it. A wonderful coming of age story where magic and reality intertwine.
January 08, 2017
I really enjoyed a monster calls it was funny,sad,and uplifting all in one and showed you to be true to yourself
January 06, 2017
The movie was interesting. But it could have been more entertaining. However, I do like the effects and graphics for the tree monster, that was well done. And I was surprised with what a small role Sigourney Weaver played, I wish she appeared more in the movie.
January 06, 2017
IT WAS VERY GOOD
January 06, 2017
very heartfelt movie.
January 06, 2017
An original, at times believable multi-moral tale, that is well-worth seeing.
January 06, 2017
I thought the graphics were fantastic, the story had a great premise but I was disappointed by the abrupt ending- like a drop off a cliff.
January 06, 2017
Wonderful, but hard to watch at times without that kleenex
January 06, 2017
A very unique and enjoyable movie. Technically impressive but also left the user to interpret the exact meaning of the monster. And for anyone that has lost a close loved one, this movie hit home.
January 06, 2017
Viewed this film at a sneak peek. I found its amorality refreshing. The story is basically how humans are flawed(the amorality I spoke of) and that one needs to be aware of this amorality, even within oneself. In short, a young boy whose mother is dying and whose father is absent learns lessons about himself and others through the titular monster. A children's story about us that has no "moral" lesson because people are not moral, but rather a lesson about recognizing this amorality and learning to live with it. Morals are a metaphysical tool, no more. Hard truths about our species. Well acted and shot. ?
January 06, 2017
Even though a bit dark for young children, I like how it dealt with important issues like bullying and serious illness.
January 06, 2017
A heart touching movie that bring tears to your eyes. It's a must see.
January 06, 2017
A very poignant and moving tale about a boy and his dying mother...enjoyed it tremendously!
January 06, 2017
Gorgeous film. Great for kids and adults alike. Heartfelt and moving! Visually beautiful
January 06, 2017
Beautiful portrayal of a child's inner dealings during a time of uncertainty and confusion. Well written. Well presented. Well acted.
January 04, 2017
A movie you would watch if you have the time to spare and have nothing to do.
July 24, 2016
I'm a sucker for this kind of movie, plus, it's got Sigourney Weaver, and Liam Neeson as the Monster's voice - really, how cool can that be!