A Most Wanted Man
Thank you for rating this movie!
Read your review below. Ratings will be added after 24 hours.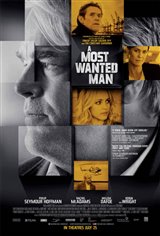 ---
Please rate between 1 to 5 stars
Showing 1 to 9 of 9
November 13, 2014
Brilliantly executed. excellent cast and acting. keep you guessing every second.
November 06, 2014
Great Cast! SHIT ENDING!!! We kept waiting for something big to happen, so sure it was going to come and it never did. HORRIBLE!!
September 30, 2014
Superb acting and a twisting and ambiguous plot that lays out conflicting takes on morality and truth. Highly recommended for those who aren't ADHD.
September 16, 2014
Did not enjoy this movie. Very confusing to watch
September 09, 2014
Definitely a thinking persons movie. If all you want is action stay home. If you want in depth entertainment, truth, superb acting and thought provocation don't miss this great movie.
August 31, 2014
Rather disappointing overall. A lot of mumbling in the dialogue made the viewer wonder if they were missing something. Lack of character development decreased viewer engagement. Slow moving. Weak plot. It wasn't clear how Hoffman's proposed outcomes would be substantively superior to those of his opponents.
August 21, 2014
Hoffman should get the Oscar for sure! Great movie telling a point of view in depth we rarely if ever see. Gripping and well filmed. In today's world, a must see.
August 06, 2014
A wonderful, intelligent movie - not the dumb shoot-up, blow-up, kill-all flick of today. Thank God for it. Almost better than the book. Great acting, directing and cutting. A MUST SEE, if you like some food for your brain. The only bothersome point for me was how my old hometown Hamburg was portrayed... dirty, dreary and covered in so much graffiti that one, who doesn't know it any better, has to wonder what kind of "dump" this actually most beautiful, greenest, classiest and livable of all German cities is. Yes, graffiti is a problem here... but not to the extent presented in the movie with not an inch of a wall, house entrance and staircase visible without some scribble on it. And the old
July 27, 2014
An excellent movie. Did not look at my watch once during the movie. It flowed well and presented a pretty realistic look at varying approaches to the conflict with Islamic extremism in Europe and around the world.