A Nightmare on Elm Street - User Reviews
Thank you for rating this movie!
Read your review below. Ratings will be added after 24 hours.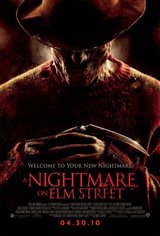 2.98 / 5
User Rating
Based on 551 votes and 158 reviews
---
Please rate movie 1 to 5 stars
Showing 1 to 50 of 158
April 21, 2013
An improvement on the original, but still pretty bad.
July 08, 2012
even funnier than the original! if you love bad movies, you can't go wrong with this character!
May 16, 2012
i thought it was amazing! and scary
October 06, 2011
Freddy Krueger Was My Fave Character!
February 10, 2011
i prefer the original. JACKIE EARLE HALEY is not a good Freddy at all. He is to small, was'nt scary, some of the things he said was so out of place, his voice sounded forced. The original Freddy (Robert) was funny & scary at the same time & he looked the part, played it perfectly
January 12, 2011
pretty good! Freddy Krueger's back and better than ever!
October 30, 2010
This movie was decent. the storyline was good, and the acting was good. The problem that I had with it though, was the fact that Freddy did not even look like the original Freddy. The looks of him were so dissapointing that I had to give a lower rating because I was not happy with this. If you are a Nightmare on Elm Street fan, and a big fan of Freddy like I am, then you'll have to get over the fact that Freddy looks nothing like the original freddy :(
October 30, 2010
Not as good as the original. Too much emphasis on creating backstory and explanations, at the expense of the actual horror. Some talented actors are wasted in this film, although Jackie Earl Haley does bring a new take on the iconic Freddy.
September 15, 2010
I was 10 when i saw the original and for sure it scared the hell out of me. Still one of my faves today. But this remake is very good and they couldn't have done much else with it to make it any better. Perhaps all the morons who gave this movie one star should have at least a clue (or an i.q point) about horror movies before being allowed to vote on a public website! It's like what the hell would they expect when seeing a horror remake?! A frame by frame remake of the original like they did with Psycho?!
July 28, 2010
I loved this movie. I saw it at Midnight on thursday (natch), and then I went right back to see it the next day. It's great. i think that they did everything right. You can tell that it's made by horror nerds that really love the original series, and I know that because I'M a horror nerd that loves ANOES. I was originally really lukewarm about the fact that they were remaking this movie rather than making a sequal, and when I learned they were recasting Robert Englund, I was almost outraged. When I heard that they had gotten Jackie Earl Halye though, it put my mind at ease. If anyone could be a worth replacement, it would be him. He did not disappoint in the least. They revamped the stor
July 23, 2010
This not the freddy movies from the 80's not worth the money
July 21, 2010
Great remake...Freddy looked great. It was a great insight into the story. Really good movie.
July 17, 2010
same ol Freddy. I have outgrown this type of movies.
July 17, 2010
scary but not enough , movie is old now, they have to find a new story line
July 16, 2010
ust rent the original movie...again. That's remake enough.
July 16, 2010
Great Remake of the Original, it was scary and interesting. A Must see if you;re a fan of horror flicks.
July 16, 2010
not my kind of movie but it`s not that bad
July 15, 2010
Not enough scare factor.
July 15, 2010
As a fan of the original, I have to say that I wasn't impressed with this movie. It was boring and uninspiring. I understand what they were trying to do, however it lacked the intensity of the original.
July 15, 2010
I enjoyed the trailer more than the actual movie.
July 14, 2010
Uses weak scare tactic, "person walks into quiet setting, Freddy jumps out". Rent on DVD if you're in the mood.
July 12, 2010
Great movie!
July 12, 2010
the movie doesn't take itself seriously, allowing for some excellent laughs and some atmospheric moments without all the trouble of a logical plot
July 11, 2010
A cool remake of the original, a spin of a different type of nightmare. Freddie is back for a round of fun and mayham.
July 11, 2010
Not my cup of tea, but some viewers may enjoy it.
July 09, 2010
Very interesting story.
July 09, 2010
Doesn't live up to the original at all! There is little to no character development which made me not feel for any of the victims…not even Nancy. I thought Nancy seemed more like a side part than one of the main parts. Freddy's new look is disapointing however I suppose more realistic. Overall, if you are a horror buff like me and love the original, check it out just for the sake of checking it out and giving it your own thoughts.
July 09, 2010
It was kind of boring not something I would see again.
July 08, 2010
don't mess with a classic!
July 08, 2010
Not bad. Much better than the original in my opinion, what with how it was actually able to make me jump a few times. The one-liners Freddy has are hilarious. It had some gory bits, and a few moments that didnt really make sense - but thats quite common in any horror movie these days. Its your traditional horror movie cast. And overall it wasnt amazing or anything, but it was good enough to watch (maybe even more than once) What did this movie teach me? Apparently, your brain is still awake and functioning for up to 7 minutes after your heart stops. I wonder if thats true.
July 08, 2010
it was ok.. the actor played a good part. the rest was kinda weak
July 06, 2010
I was not impressed by this movie at all. It was too predictable, we've seen this same scenario way too many times before. My personal opinion is that they should have stopped with the Nightmare on Elm Street sequels a long time ago.
July 05, 2010
Not actually scary (but many horror movies these days aren't), but enjoyable. They brought the original back to the screen in a brand new way that feels fresh and exciting, with a great, hot young cast. Really enjoyable.
July 04, 2010
Well i can say the facial makeup is WAY better and more realistic than it was original sort of first rounds of this movie. this time they really made it work. good work.
July 04, 2010
Not scary and was very weird at some points.. Only thing i learned was why Freddy was evil.. but that only opened up more questions. Confusing and boring.
July 04, 2010
I wasn't expecting much and I was right.
July 04, 2010
Come on ...Freddie again!!! Let's get some fresher movie ideas.
July 04, 2010
not my favorite,not scary at all.
July 03, 2010
This movie was not as scary as the first, but then I was not very old when the first movie was made.
July 03, 2010
this movie is a great disappoint
July 02, 2010
Definitely a must see.
July 02, 2010
I remember the original as being much better and scarier.
July 02, 2010
A good remake that had incredibly better makeup this time around. A really good telling of the story that went into more detail than the original did.
July 01, 2010
save your money, worst movie of the year
July 01, 2010
Remaking the classic Nightmare on Elm Street, Freddy Krueger's past is revealed and for a group of teenagers, staying awake is more important now than ever before. This was a typical teenage slasher flick with very little suspense at all. There was one scene that was a little disturbing involving one of the teenager's desperate pleas using a webcam, as well and the part involving the song "All I have to do is dream" that was playing in the drugstore where both characters seemed to be in a alternate comatose states of mind. Otherwise, I felt that this movie really lacked in its delivery. I still very much prefer the original Nightmare on Elm Street series which had moments where my heart w
July 01, 2010
i think they are losing their touch,needed more scare factor
June 30, 2010
I thought the cast was nicely chosen, there was the right amount of gore and scary scenes, and i liked how there was a story behind it (and it was not only about gore). Great horror movie!
June 30, 2010
I really enjoyed this movie. It wasnt like the original but I did enjoy it overall. I was very pleased to see Kellan Lutz in here! :)
June 29, 2010
Pointless remake. If they insisted on going there, then they should have done a re-imagining rather than a recreation. See the original and save your money.