A Quiet Passion - User Reviews
Thank you for rating this movie!
Read your review below. Ratings will be added after 24 hours.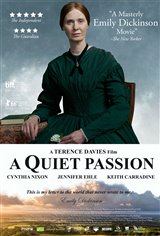 ---
Please rate movie 1 to 5 stars
Showing 1 to 3 of 3
October 16, 2017
I was so disappointed in this movie and not only because I'm a fierce ED fan and just didn't believe Cynthia Nixon's portrayal. I'm surprised it's gotten such great reviews. The screenplay is terrible. Dickinson's life may have been quiet and appeared uneventful, but this movie has no plot! The first half seemed to be about establishing character and the second half about Dickinson's decline in health and embitterment. The 'witty' banter between the sisters and the mostly fictitious friend was stilted and pointless. Until the half way mark of the film or after, all the dialogue was confusing. Scenes appeared to be isolated from one another, didn't hang together and the pacing was horrible. Too many of Dickinson's poems were crammed in. Nixon's reading of them as a 'soundtrack' was fine, and in some places worked when she spoke them as dialogue, but in many places, not. In the final scene with the casket, several poems were read as though they were one. Dickinson had dozens of 'death poems' and it seemed they wanted to cram as many in as possible. The young cast at the beginning was terrible, but so was the dialogue so it may not have been their fault. Instead of bringing Dickinson to life, this film was like a museum piece. I never once felt I was getting insight into Dickinson or her life. Nixon did an amazing job with what she had to work with and the last half was much more intense and effective than the first. Dickinson's life is admittedly a difficult one to portray. She was an enigma and there's more mystery surrounding her life than clarity. After EDs death, Vinnie destroyed correspondence, poems and papers presumably because they contained personal, perhaps shocking, information. It has been suggested that Dickinson suffered epilepsy, manic depression or sexual abuse, that she was a lesbian, in love with her sister in law, or one of a handful of different men. Read her 'Master Letter
July 14, 2017
Need a reason to go to sleep? Watch this movie
May 22, 2017
Was disappointed. I usually like period movies, but I found this one long and dragging. The acting wasn't that good and since I don't know the life of Emily Dickinson at all, I was at a loss with the timeline. Events sometimes jumped a few days to a few years without me being able to figure out how old she was as the story unfolded.