A Simple Favor - User Reviews
Thank you for rating this movie!
Read your review below. Ratings will be added after 24 hours.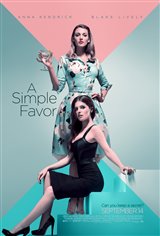 ---
Please rate movie 1 to 5 stars
Showing 1 to 48 of 48
August 13, 2019
It was both funny and dramatic. I loved it- especially since it was based on a true story.
December 24, 2018
Didn't get past the first 20 minutes … and that is very, very rare for me to not finish a movie.
November 04, 2018
LOVED IT!!!! #LINDA CARDELLINI!!!! AND 4 STARS
October 19, 2018
What started off interesting ended up stupid.
October 17, 2018
An intriguing, very different movie -- kept you wondering just what was happening and what would happen next! Anna Kendrick ("Stephanie") did a great job.
October 14, 2018
Stupid. Contrived. Boring. Check your brain out with your jacket and get ready to euthanise 2 hours of your life. Hated if but tolerated if only bcoz my wife made me go.
October 11, 2018
From the opening titles to the tune of "Watching The Girls Go By" (in French) I knew I was in for a fun ride and I was NOT disappointed. Kendrick was perfect as the frenetic single mother, determined to fit into the much more worldly (and deliciously wicked) Lively's world. I like a film I cannot figure out in the first 20 minutes and this one had me guessing and re-guessing as I tried to untie the tangled web of lies and half-truths, while trying to figure out exactly whose lies they were. My advice; don't read too much into this one. Simply make a really stiff martini, strap in and enjoy the ride!
October 10, 2018
Slow to develop, gratuitous bad language, long and boring monologs and unconnected music score; wasn't sure where the story was going or if it was supposed to be a comidy or a serious drama. Left theater after the first 30 minutes and fortunately found a nearby watering-hole to make up for a busted evening at the movie.
October 07, 2018
It's worth seeing - yes, a bit quirky, and seems convoluted in the storyline, but the ending is great and overall, is entertaining
October 06, 2018
Great subtle humor. Acting superb. Plot surprises every moment.
October 06, 2018
I didn't expect the humor and the suspense to work so well in this feature. Both actresses added their own magic and mystic to the plot to make it a hit on my list.
October 05, 2018
What started off as a strong film became foolish. The french all sounded japanese.
October 05, 2018
I was surprised how much I loved this movie! Made me laugh and kept me entertained to the end!
October 03, 2018
This movie is terrible!! They get together for what, a couple drinks, and all of a sudden there "best friends"? Found the story line just weird. Acting was ok but script was awful.
October 02, 2018
Loved this movie. Lots of plots going on, and enough surprises to keep one's interest.
October 01, 2018
A fun movie but kind of long; lots of different twists and the actors are pretty darn good in their roles. Light entertainment with quite a few laughs.
September 28, 2018
TWO THUMBS DOWN
September 28, 2018
Excellent movie - I have already seen it twice.
September 28, 2018
An interesting film but it starts to fall apart near the end with the improbable twists an turns.
September 27, 2018
Enjoyed this movie
September 27, 2018
I don't know if I'd necessarily call this a thriller, the ending was kind of comedic but the movie was definitely enjoyable, a few very funny but crude one liners as well.
September 25, 2018
Loved this movie from the beginning until the end! Great acting and story with many twists and turns. Must see!
September 25, 2018
It was almost a documentary style of movie, weird.... Could have made it for you..... Not my favorite..
September 25, 2018
Great movie!
September 24, 2018
Great plot, great acting, great music! Looove everything about this movie!
September 23, 2018
What a fun movie
September 22, 2018
wow... what a ride! plot twists galore.... like a chess game run amok. Blake Lively was fantastic.... and gorgeous!
September 20, 2018
No stars for this dumb stupid boring movie don't waste your time and money
September 20, 2018
Surprisingly funny and good/ also a real thriller. This movie is worth seeing but don't think you know what is going to happen.....
September 20, 2018
Great plot
September 19, 2018
Excellent plot twister. Enjoyed drama and the laughs mixed in.
September 19, 2018
A rollicking good twisted tale!
September 18, 2018
Entertaining story with fun twists. Good performances by both ladies.
September 17, 2018
Just read the last review. Didn't really like the book, but there was definitely no lesbians in it so will even more so never watch this movie. Disgusting that they added it for cheap thrills. Trust Hollywood to cheapen everything they touch.
September 17, 2018
Glad I went on seniors day, cheaper movie price. The movie is true to the book, but Hollywood throws all the dirt, crap, lesbianism, everything in it to offend. It's a thriller with twists. I knew what was coming.
September 17, 2018
I read the book, and yes, the movie is exactly true to the book, but Hollywood has to throw everything into it....all the perverse stuff, Hollywood delights in this stuff. Blake Lively is good. If you've read the book, forget seeing the movie.
September 17, 2018
Lively is mesmerizing, she steals the movie! Kendrick though seemed miscast in my opinion, she's better suited to fluffier stuff like the Pitch Perfect flicks,the movie was still quite enjoyable..
September 16, 2018
Great story with lots of twists. I wish there were movies like this!
September 16, 2018
I agree Kendrick and Lively performed excellent. Unexpected story. You have no idea what you are going to get from this movie.
September 16, 2018
One of the best of the year!!!!!
September 16, 2018
Awesome ?????? Funny & Smart ??
September 16, 2018
Best movie ive seen in a long time. Anna Kendrick and Blake Lively were polar opposites and put on a fine performance. I will see itagain
September 15, 2018
EXCELLENT. I cant think of anything negative about this movie. 😀
September 15, 2018
Very pleasantly surprised with this flick. Keeps you guessing from beginning to end . A lot of humor mixed in as well.I loved the ending.
September 15, 2018
best movie I've seen in a long time
September 15, 2018
I really can't see how this movie could be any better! Twists and turns, funny parts and was surprised to see it was based on a true story!
September 14, 2018
I loved the movie. Quirky, funny, serious some thing different.
September 12, 2018
A movie to go and see if you want to have a fun night at the movies. It's intriguing with a plot full of twists. Excellent character developments and portrayals. Despite some sordid storylines, it is a movie guaranteed to make you laugh. And it has good music in the background too. A go-see movie. You will be glad you did.