A Star is Born - User Reviews
Thank you for rating this movie!
Read your review below. Ratings will be added after 24 hours.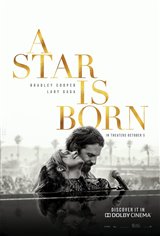 4.12 / 5
User Rating
Based on 1036 votes and 290 reviews
---
Please rate movie 1 to 5 stars
Showing 1 to 50 of 290
March 29, 2019
Music and story are great
March 21, 2019
Fabulous acting and singing! Best movie ever!
March 18, 2019
Love this movie!!! Well done!!
March 17, 2019
Excellent performance by Bradley ,He was great , but I can't say the same thing for Gaga. I love her as a singer,but not on this movie.Her performance was the missing part of that movie,Bradley looked as a singer more than Gaga , to me..
March 08, 2019
Worth seeing though I think it should have some kind of advance warning that it depicts suicide. Realistic romance between Bradley Cooper and Lady Gaga. Agree that there was way too much use of the f-word. Thought it was way better than the Streisand version--I just couldn't picture Streisand and Kristofferson as a likely couple.
March 08, 2019
Great movie. Saw it twice.
March 05, 2019
Excellent performances by Bradley Cooper, Lady Gaga. They had a special chemistry and it showed. Awesome! Oscar worthy show and the song "Shallow".
March 04, 2019
Cooper may yet make a fine director, but his efforts here are wasted on actors who can't act and singers who can't sing. Gaga is especially miscast, and non-enthusiasts will doubtless find the soundtrack nigh unlistenable. We didn't need another version of this tired tale, and let's hope there isn't a sequel.
March 04, 2019
One of the best, this movie was brilliant... I've never watched a movie that was so damn real, Bradley is unstoppable 💕 Lady Gaga voice and acting was outstanding 💕
March 01, 2019
Just listenig to the music is enough but the acting is superb.
March 01, 2019
Loved it. Chills during shallow. Repeat alert on that song! I need to rewatch Barbra Streisand version to see which one I like better. Luckily it's on my dvr. Husband doesn't mind going to see the 2nd version. Hard to find a decent movie to watch. I prefer movies from 30s and 40s. (I'm in my 50s) I didn't really like the 1st 2 versions.
March 01, 2019
Producing and acting was so great that I thought it was real
March 01, 2019
The swearing was overdone , only super stupid people have a limited vocab like that. Unconvincing. Gaga was very good with acting and singing. Bradley was a huge disappointment. Overacting and one dimensional. Nice try , but Bradley needs to stay in his own lane. If I want to see failed folks , I'll visit old friends that destroyed their lives.
February 28, 2019
Great music, great story, GREAT chemistry!!! One of my all-time faves now EXCEPT my only complaint is every other word was F#$%, which was totally unnecessary, and detracted from the movie!!
February 28, 2019
What chemistry! Both Bradley Cooper & Gaga show case their amazing talents! A must see
February 27, 2019
Amazing movie, very emotional! Gaga is one of the greatest singer and songwriter ever!! And Bradley has a pretty good voice too!! They sang all the songs live while filming the movie. Their chemistry is so powerful. Great job!!
February 26, 2019
The fault in this betrayal of a musicians failings, is the editing that reveals the dreadful air guitar by Bradley Cooper. I would have shot above the guitar, cut from the back, so many better choices.
February 24, 2019
Other than Lady Gaga's awesome voice, movie sucked. Wish I could give it zero stars.
February 23, 2019
Really boring. Poor pacing. Brad seems to only have one face. The music was good. The screen writing was pedantic and overly focused on profanity. I walked out before it was over.
February 19, 2019
very good. Gaga was great. Brad seems to think he can get an Oscar for playing himself. Sorry Charlie, we only want tuna's that can taste like an actor, not pretend to be swordfish.
February 17, 2019
Phenomenal acting by Lady Gaga & Bradley Cooper. Their connection was so natural. A must see for sure.
February 12, 2019
Brilliant!
February 12, 2019
Poorly paced, over-directed, so-so characters, jumped new situation without exposition.
February 05, 2019
Cooper it pulled off with incredible directing, acting and performing. A tired theme made fresh. Gaga was Gaga - outstanding. Together they were so good they were lovers - not one hint of acting but real lovers in the way they looked at each other.
February 02, 2019
Gaga and Cooper did a good job, even though the movie was too slow. The singing was very good. The screen writers have an extremely limited vocabulary. The vast amount of profanity added nothing, and was actually awful. This alone makes the movie not recommendable.
February 01, 2019
Songs were amazing, love Lady Gaga in it, the acting was natural, didn't see forced, which I liked!!!! I would watch it in the theater again!
January 31, 2019
We both loved it! I thought Bradley Cooper did a very good job directing AND acting. Before seeing it, I wasn't a big LG fan; but my opinion has changed! She was very good! I loved the songs, Sam Elliot was fantastic as usual. Pacing was a bit slow in the first 1/2. But definitely worth the ticket & I'll buy Bluray when it comes out!
January 30, 2019
Loved loved loved it!!! One of my all-time favorites! Incredible performances by Lady Gaga and Bradley Cooper! 😀🎶 Unfortunately, you can't please everyone.
January 29, 2019
Good singing. But lady gaga's acting is a no go. Barbra Streisand can act and sing. 3 stars is the best I can give.
January 27, 2019
Loved loved loved it!!! One of my all-time favourites! Incredible performances by Lady Gaga and Bradley Cooper! 😀💕🎶
January 27, 2019
Very disappointed, songs were good, one star, and Sam Elliot's performance deserves the second star!
January 24, 2019
This was one of my all time favorites! It took me to all the octaves of feeling and beyond. Loved it!!!
January 23, 2019
Overall, I didn't think it was great, but I have to say this was Bradley Cooper's best performance so far. Having said that, he was totally doing an impression of Sam Elliott, who was the best thing in the movie. Not that doing an impression of Sam is a bad choice, I think it was the right choice for sure.
January 22, 2019
Boring, cliche, dragged on forever, "Shallow" sounds like a ripoff of "Eye of the Tiger" (yuck). One star is for Sam Elliot's performance.
January 19, 2019
This movie was very boring, corny, shallow and predictable. After 5 minutes of meeting each other, the characters unrealistically found themselves in a complex, interdependent relationship.... it was like a bad Telanova. The story and the dialogue were annoying and my husband and I walked out in the middle of it.
January 17, 2019
Get the most out of this well done movie. Go see the movie in dolby sound. Amazing
January 15, 2019
If greatness of a movie is being able to use the F--- word 10 to 20 times a minute is what helps to be Oscar worthy. After 20 minutes I didn't mind asking my Wife if it's time to to leave and we did. Other people in their reviews said this is how people talk every where!!!!! No not with the people I know!!!
January 08, 2019
Save the fare. Don't understand all the hype and boasting of greatness. Found it unexciting, dialogue had a very limited vocabulary, acting was not! This movie absolutely does not compare favorably with the versions casting Judy Garland or Barbara Streisand.
January 04, 2019
Bradley Cooper will break your heart in this film (and is there any woman he stars with that he doesn't have amazing chemistry?) He expanded the male character in this remake and it works. You will think about it long after and talk about it even longer than that. Women and men both love it. If it doesn't pull in a slew of Oscars, I will be very disappointed.
January 03, 2019
both Bradley Coopers best acting ever AND Lady Gaga amazing performance. If you like her music, you must see this film. The BEST of 2018 movies.
January 01, 2019
This movie had better win some awards!!
January 01, 2019
Loved it all.
December 30, 2018
Avoid. You will regret it. If not, then something is seriously wrong with you. Seriously. Predictable - paint by numbers but the painter is beyond drunk AND stoned. Jaws 3 in 3D more clever, engaging. Badly scripted - "F" bomb dropped continuously, as a noun, verb, adjective, adverb - often all 4 in same breath. Come on Holywood, who talks like this? 10th grade drop outs in the oil patch? Not even close! Unbelievable. Boring - first 30 min was as good as it got because it was still only predictable and nadly scripted. Then it got real boring. I found myself checking my watch every 5 to 10 minutes. When would it end?Several up and left mid-way. I stuck it out. My loss.
December 19, 2018
excellent film. all those bitching about the language. you might want to get out more. as awful as it is, the f word is everywhere all the time. I don't like it, but that's reality.
December 18, 2018
Great movie, great chemistry, great acting and great music.... a possible Oscar winner.
December 14, 2018
Sooooo slow and boring.
December 11, 2018
Overall I really enjoyed the movie WITH the exception of all the swearing; hence the loss of one star. Great music and great chemistry between Gaga and Cooper. Can't wait for the DVD to become available—- enough with keeping it in the theatres already!!!
December 11, 2018
Too much use of f word. Shameful
December 08, 2018
Great movie. Bigger Lady Gaga fan than ever.
December 08, 2018
The worst musical of the year.