A Wrinkle in Time - User Reviews
Thank you for rating this movie!
Read your review below. Ratings will be added after 24 hours.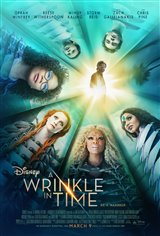 1.33 / 5
User Rating
Based on 5676 votes and 204 reviews
---
Please rate movie 1 to 5 stars
Showing 1 to 50 of 204
October 20, 2020
I think that this movie was very fun and adventurous. I love the acting of every role in this movie. I did learn some lessons about being brave and not giving up. Also the people who gave one star reviews and saying rude stuff about the making and actors are just being annoying. I also noticed that there are more 1 star reviews then 5 stars which is a shame so thats why I am supporting 5 stars not just because how much 1 star reviews there are. It is because of how good the movie is
August 12, 2019
bad movie. where is the life and soul of the book? the filmmakers made a lousy flick, but instead of accepting responsibility for their failure the tried to alibi out of it by playing identity politics, which is absolutely reprehensible. shame on them
July 17, 2018
I liked it. You will too.
July 17, 2018
It's an ok movie. You could tell because we were the only ones at the theater.
July 17, 2018
Don't listen to those poorly rated reviews! This is a wonderful movie! Go see it!
July 17, 2018
Eh. I liked it, but at some points it got boring.
July 17, 2018
It's a good movie for both kids and adults, it has a wide range of bright colors. Loved it.
July 17, 2018
My children, 12 and 13, both thoroughly enjoyed this wonderful movie. It was colorful and vivacious, has a wonderful plot, and was overall a great movie. My children begged me to take them to see it again. I think it's quite inconsiderate of the people who put in a bad rating, because this movie has a wonderful meaning. I think it might not be the best for ages below eight due to certain scenes that might scare them a little. Please do your family/yourself a favor, and go see it.
July 10, 2018
Absolutely terrible! And now the actors from the movie are blaming their own failure on white male movie critics! Appalling.
July 01, 2018
I had never heard of this movie before I saw it, so had no idea or expectations whatsoever. I had to st op about 20 minutes after they got to the distant planet because it was just going nowhere. It was silly, making no sense, and some of the characters were awful. The feminized white kid, who seemed to have no purpose whatever besides standing there admiring Meg's hair. The freakish younger brother, the creepy Reese Witherspoon character. Afterwards I looked it up and found out it was made from a 1962 book, Oprah was in it, it was directed by a Black woman, etc. I did spot Chris Pine right away, and neither this movie or his performance will likely add anything useful to his resume. I was a 100% unbiased reviewer and I thought it was garbage. So glad I didn't pay to see it.
June 26, 2018
Awful, Awful, Awful. . I left the theater angry at how terrible this was. It felt like an insult.
June 25, 2018
The darkness was too intense. I liked the actresses and originality. Liked the message it had to give.
June 23, 2018
Was really good. Never lost me in their adventure to the unknown. Went with my 13 year old grand daughter & she loved it, seeing it for the 2nd time. Not action packed but that's not for every movie
June 15, 2018
An absolute mess. Parasitic film betrays the source material in favor of shallow postmodernism. Repugnant.
June 13, 2018
Just a very underwhelming movie overall, especially given the hype. There was some good eye candy, but it just didn't hold my attention. I didn't read the book, so I went in with no expectations. Time to read the book.
June 07, 2018
Good movie deserves a lot of credit. I thoroughly enjoyed!
June 01, 2018
Read the book, the movie tries to replicate fantastical ideas that are very difficult to translate to the big screen. Writers/director tried hard, the cast did a great job, but it falls short on the wonderful book of the same name.
May 28, 2018
good! watch it.
May 26, 2018
Beyond Bad !!! I wanted to give it 0 Stars but it would not let me... SO Zero Stars !!!
May 20, 2018
Very good never read the book but the movie was very very good
May 17, 2018
Good God what a disaster.
May 17, 2018
Loved the book. went to go see it, and wondered if it was even the same book. How can you take the central them out of a movie and still deliver the story? It's like Harry Potter without magic, or Lord of the Rings without the Rings. Stupidly told story that makes no sense whatsoever.
May 17, 2018
Thought it was a great movie for kids yo imagine beyond what they think is possible.
May 14, 2018
"I cant stand Oprah... Clearly the movie failed because of her bad, pathetic acting." If you don't like her why you went to see this movie?
May 13, 2018
Who are the 6 % who liked this thing?
May 12, 2018
I loved when Meg saved Charles and her dad. I especially loved the book. When this movie came out, I wanted to watch it sooo bad. When the trailer came on the TV I got overly excited. I love this movie!??
May 11, 2018
A complete fail at trying to make an inspirational movie. Horrible Acting, even worse story line.
May 11, 2018
I cant stand Oprah... Clearly the movie failed because of her bad, pathetic acting.
April 27, 2018
love the hopeful vibe and the sense of what is wondrous and loving being able to defeat evil; stunning visuals, too... however, there's less emphasis on some of my favorite parts, such as Meg's struggle to see her own capabilities, or the numbing, oppressive regime on Camazotz. Not meant to be exactly like the book, which was probably wise, and there probably wasn't time for Aunt Beast, but I would have liked to keep the feeling that victory is not assured - we still have to fight the battle, even if we think we are weak or unworthy.
April 16, 2018
Liked how it showed love conquers all. How Jesus sacrifice everything for us and we have to do the same. I would use it as a teaching tool.
April 15, 2018
The book was average but thought the movie might be okay for the kids, but they didn't enjoy it.
April 14, 2018
I'm in the movie
April 11, 2018
It's a great adaptation of a classic novel! Loved it!
April 10, 2018
This is an amazing novel and had all the potential to become an amazing film; very disappointing.
April 09, 2018
I Enjoyed this movie and Thought it was Good and thought the Effects were very well done. the Acting wasn't that bad. After seeing some Reviews on this I was a little Worried about this Disney Movie but I found it Quit good and liked Oprah in it.
April 07, 2018
Great special effects but movie lost its momentum as it progressed. Unfortunately the best parts are shown in the trailer. You come out at the end feeling something is missing.
April 06, 2018
Just a really excellent adaptation from the book.
April 06, 2018
great movie it was kinda sad but it was a movie go check it out
April 06, 2018
It was a beautiful interpretation of the book, an updated version. Inspiring movie about encouraging young people (young girls) to love yourself and respect your mind. Encouraging girls to be the hero's of their own story. Encouraging girls to go into science and math and makin it cool. Loved it!
April 06, 2018
BADDDDD Movie, besides the trailer which always shows the best parts if any, go online to check it out
April 06, 2018
This movie inspired me & was very relevant to life. It encouraged sacrificial love that is brave & heroic, as well as forgiveness in a creative colorful way.
April 05, 2018
This was the worst movie I have ever seen. Several times, I bust out laughing out loud because I expected the cameras to come out and announce that the whole thing was a joke. The dialogue was terrible and the actors delivered the lame lines with the passion of fourth graders in a school play. Oprah Winfrey was bizarre and Reese Witherspoon should never be taken seriously as an actress again. I was so excited to see it because I loved the book ~ but I almost feel that there should be a class action lawsuit to require a refund to everyone who went to see this bilge.
April 05, 2018
Awful, just awful. Bad acting (girl), incoherent storyline, a soundtrack that constantly tells you what emotion your should be feeling (the usual for Disney). Don't waste your time and money.
April 05, 2018
This movie was a true waste of my money and my time. Boring and whack as crap.
April 05, 2018
A good film version of one of my favorite books from childhood. Not unexpectedly, some of the characters did not match my mental pictures of them, but I got over the incongruity.
April 05, 2018
After the initial dazzling special effects the movie breaks down into one long empty platitude.
April 04, 2018
Finally a good movie with good morals. Very rare to find this these days.
April 04, 2018
Relax, people. Enter into the spirit of this movie. Enjoy! Don't grow up!!
April 04, 2018
Fatally flawed from beginning to end.