A.I.: Artificial Intelligence - User Reviews
Thank you for rating this movie!
Read your review below. Ratings will be added after 24 hours.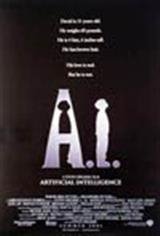 3.98 / 5
User Rating
Based on 1203 votes and 17 reviews
---
Please rate movie 1 to 5 stars
Showing 1 to 17 of 17
December 16, 2008
This Film had a superb cast and a great messaga at the end it made me cry but it was a little overlong loved the teddy bear
September 30, 2006
I`ve watched it with my family, it is a heartmoving film especially if you trurly have a ear for classic music. "Frances O`connor" was beautiful.
June 23, 2006
The movie was so fascinating.. Haley Joel Osment was so great!!!
October 25, 2005
it`s the best hollywood film that i have ever seen
March 12, 2005
Start WOW, Spiel_Pinnocio finish=yuck
September 04, 2004
Disappointing to say the least. The FX were the only stars of this movie. The last part of it became tiresome to watch. Not the best Spielberg movie.
June 28, 2004
The stupidest movie ever................
February 06, 2004
Excellent...It`s a GREAT MOVIE...Haley character made the story moving and shows true. A.I. is good for humans being...
August 10, 2003
I thought this was the worst movie I had ever seen...it was pourly done and really didn`t have a plot!
November 28, 2002
This movie was EXCELLENT...it really made me think. It is a good demonstration of how human beings can be paralleled with robots. Because in essence, HUMANS ARE A BIOLOGICAL MACHINE. Robots run on a program to think, yet so do humans. Because, OUR BRAIN is a BIOLOGICAL PROGRAM which can break down as well (eg. memory loss, paralysis, etc.) or can be easily programmed/influenced by our environment. This movie makes you think about how fragile our minds and bodies are as well as how easily brainwashed OUR biological mind/program can get simply by absorbing all of the input/influences from our environment. So in essence, maybe that is why w
April 05, 2002
This was definately one of the best movies I`ve seen. It was very touching and I thought the movie revolved around a very interesting topic. Ever since I watched it, I`ve been thinking forever about what the world will be like in a thousand years. It would be interesting if the world would turn out as in the movie. I agree that the ending was a bit strange and it should have ended where David prays to the Blue Fairy or he is frozen in the helicopter. I thought this was a very underated movie and should have got the credit it deserved.
April 02, 2002
it was very exaggerated. it was not logical.2000 years later davids mum coms back again but does not ask where her family is.WHAT A NONSENSE.
March 29, 2002
It was another great movie made by Speilberg and it makes you think of the hidden aspects of mankind. Osments character really made the story moving and shows true, pure, unconditional love that we often take for granted. The ending was kind of odd tho but overall, it was still a great performance~! Can`t wait to buy it
March 17, 2002
I loved the fact that spielberg had the balls to end it. P.S. They aren`t aliens, They are advanced robots.
March 08, 2002
A.I. was a decent movie. It really made you take a look at the ethics involved in building machines that can "think". Where would that lead us to, and how would that ultimately impact our lives. The ending would have been better if Spielberg had left it off where Kubric had planned for the ending. Instead, Spielberg had to go "E.T" on us and creat a "happy" ending. The film wasn`t meant to have a happy ending... it was supposed to leave you thinking.
October 19, 2001
Sometime in the future of the 21st century, in a time when the Greenhouse Effect has melted the icecaps, submerging many of the coastal cities in water, mankind depends upon computers with artificial intelligence to maintain our way of life. Man has also found new friends in A.I., in the form of robots that are used for a variety of functions. This story is about a boy robot, and the emotional journey he makes toward becoming something more.