Alex Rider: Operation Stormbreaker - User Reviews
Thank you for rating this movie!
Read your review below. Ratings will be added after 24 hours.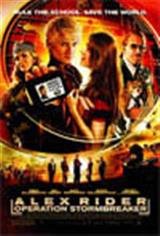 ---
Please rate movie 1 to 5 stars
Showing 1 to 31 of 31
February 20, 2013
Love it
April 15, 2008
great adventure movie, loved it and so did my family!looking forward to seeing Alex's latest movie "Wild Child" fans definately won't be dissapointed by Alex's performance!
February 25, 2007
The Book was better...but the movie still rocks! my all time favourite. i wonder if they`ll make a point blanc movie. i think the actor who played blunt was perfect for the job.
February 15, 2007
Had talent to be lead spy actor. The film will be better if had more high risk stunt. His personality fullfill the spy need but should take care of his body weight.
February 14, 2007
Hello, I`m From Malaysia. I Think It`s Not Too Bad For Alex Beginning As An Action-Film Actor. More Adventures Would Make It More Better. I Hope Alex Not Stop Acting. I Wish To See Him "As Hugh Jackman" Someday.
February 12, 2007
Talented For Next Coming Spy Film. I Love His "Like As Monalisa`s Smile". It Would Be Great To Match Him With Danielle Radcliffe For A Teenage Half Sci-Horror Film.
February 12, 2007
Talented For Next Coming Spy Film. I Love His "Like As Monalisa`s Smile".
January 06, 2007
OMG hottest lead actor ever! the movie was alright but it was worth seeing for the actor <3
January 06, 2007
it was really close to the book i hope to be and acter as good as alex pettyfer someday
December 09, 2006
Hey what`s up... This movie is really good.. When i heard about it, i was like ok its sounds like a teenage james bond, but then i bought the book stormbreaker .OMG it was so good and then i saw the movie when it just came out and its nothing like James Bond it way better.. I think everyone should watch it because if you don`t there not going to make point blank and i really want them to make a second one. from the biggest alex rider fan. Hamony! bye
December 05, 2006
This movie is the best movie in the whole world.. i wish they make alex rider: Point Blank i would be so happy if they do.. and the people who didn`t watch stormbreaker in theatre`s, will good news for you then, its coming on dvd on dec 19, 2006 so go buy it or rent it ok.. its really good!
December 02, 2006
This Movie Rocks... its really good eveyone shoudl watch it
December 02, 2006
This movie rocks everone should watch it... its so so so so so so so so so so so so so so so good... and the books rock!
November 26, 2006
The best movie ever!
November 26, 2006
Move over, Cody Banks -- there`s a new Action King! *****
November 25, 2006
ALEX RIDER, you`re my hero!!!!!
November 20, 2006
My favourite movie of all-time! Can`t wait for the sequel!
November 03, 2006
Ive read the books and they are awsome!!!!!!!!!!!!
November 03, 2006
AMAZING!!!!!!!!!!!!!!!!!!!!!!!
October 22, 2006
This is the best action movie in ages! Smart, funny, thrilling, and yes, SEXY!
October 16, 2006
AWESOME!!!!!!!!!!!!!!!!!!!!!!!!!!!!!!!!!!!!!!!!!!!!!!!!
October 16, 2006
A pretty fair James Bond-type spy flick for the junior market, as are the books. Definitely better than Spy Kids for older children. Horowitz, who also authors the book series is an experienced screen play writer and the movie paces well. My 12 year old enjoyed it very much. I`ve certainly sat through much worse flicks than this - if they come out with a sequel I`d take my son.
October 14, 2006
Amazing movie!!!!!!Full of action, cool stunts, and great actors!!!5 out of 5 stars!
October 12, 2006
SEE THIS MOVIE.. ITS SO SO SO SO SO SO SO SO SO SO GOOD..:)
October 08, 2006
dumb movie
October 08, 2006
this movie is bad
October 07, 2006
I LOVE THIS MOVIE!!!! much better than stupid cody banks and spy kids... and not to mention a much HOTTER main character! There`s been a lot of time, work, and money put into this production. Congrats to Alex Pettyfer,Anthony Horowitz and Samuelson Production and great movie!!!! GO AND WATCH THIS MOVIE!!!!!!
October 06, 2006
stupid little kids movie. the same old teenage spy save the world thing. stay home!