All About Steve - User Reviews
Thank you for rating this movie!
Read your review below. Ratings will be added after 24 hours.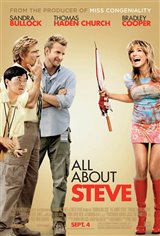 ---
Please rate movie 1 to 5 stars
Showing 1 to 50 of 72
July 02, 2013
Be sure to see it in IMAX!
December 17, 2012
Funnier than The Hangover! Bullock spins comedy gold in her Oscar-winning performance!
December 17, 2012
horrible!
September 08, 2012
i have a pair of boobs just like those!
September 08, 2012
i had a pair of boots just like those when i was a kid!
September 08, 2012
funniest movie in a long time! nice to see bullock rewarded with an oscar for this one.
August 26, 2012
one of bullock's best! 5/5
April 19, 2011
Bullock's Oscar-winning performance makes it special.
January 08, 2011
The laughs come fast and furious in the year's most delightful comedy!
December 28, 2010
you can't get much worse than this film
March 29, 2010
this movie was as bad as you get. Too bad, because I think Bullock and the other male actors, especailyl Cooper, had good chemistry with her.
March 08, 2010
Funniest film in ages! So nice to see Bullock win the Oscar for her fine work here!!!
February 17, 2010
A laugh riot! Bullock has never been better!
February 09, 2010
Sandra Bullock is sensational and she's going to win her Oscar for this.
December 09, 2009
Bullock's best movie in years! Funny and heartwarming!
November 26, 2009
Walked out half way through the movie. Didn't care about any of the characters at all. Pointless script and terrible acting.
November 26, 2009
Terrible! Sandra Bullock is normally quite good at quirky characters, but I couldn't get past her botox or plastic surgery. She's changed her face so much it took me out of the movie. Stop the plastic Sandra! It's ruining your performance! The script and plot were awful!
November 11, 2009
very funny. Would watch again.
November 01, 2009
well i thought it was good:)
October 24, 2009
The first film in the ALL ABOUT STEVE trilogy whets the appetite for the second and third chapters of the story. Lots of surprises along the way increases the re-watchability of the tale.
October 17, 2009
CLEVER! 5/5
October 16, 2009
fun movie
October 15, 2009
I think this is the worst movie of the year - hands down! SO horrible! Ick. DON'T go see this and wast your money!
October 11, 2009
Very disappointing movie. Expected much more humour. Very lack luster indeed!
October 07, 2009
This movie could have been better if they didn't cast a 50 year old woman in the role of a 19 year old.
October 02, 2009
This could have been a good movie with the cast but its not.. what a waste of good talent!
September 30, 2009
Like my husband said, this was two hours of our lives we will never get back. Worst movie we've seen in a long, long time.
September 28, 2009
Terrible movie. Had it not been for Bradley Cooper and Thomas Haden Church, we'd have walked out. Sandra Bullock was HORRIBLE.
September 27, 2009
The worst movie i have ever seen!!! People please don't waste your time.
September 26, 2009
The worst sandra bullock movie ever. First I was enjoying it and then after a few minutes It was terrible and boring. Waste of money and time, trust me on this the movie had no meaning
September 26, 2009
very good movie!!
September 23, 2009
I saw the movie on cheap Tuesday using a friends Gift Card and wish I could get my money back. Top 10 worst I've ever seen. Bullock must be broke to be making movies of this nature.
September 21, 2009
Worst movie I have seen in a long time, we actually left it was that boring, wouldnt even recommend waiting for it to come out on DVD, save your time and money.
September 20, 2009
Loved the movie.Lots of physcial comedy and not the ho hum 'happily ever after' ending. Laughed so hard in some parts that my eyes watered!
September 19, 2009
really dumb movie...big waste of my time...wouldn't even recommend renting it!
September 19, 2009
Without a doubt the worst movie ever. Sandra Bulluck looked too old for this part. I cannot believe that either of these stars would lower the acting standards and sign on to something so beyond ridiculous. This made Step Brothers seem like academy awards performances
September 19, 2009
everyone kept telling me they heard this movie was awful! I saw it pretty much because I like Bradley Cooper. Three of us went and we all liked it. It was funny and sweet.
September 16, 2009
lots good laughs, amusing but simple and clean - no swearing no blood no gross the way some comedies are today
September 16, 2009
I rate it 2 stars for the comedy but nothing else. Sandra Bullocks sexual comment at the beginning of the movie was pretty unexpected coming from her. I didn't Like it. Not appreciated and Not necessary. I almost walked out of the theatre. Plus that part where she touches her part of her body Again like she did in The Proposal. Me as a woman Don't appreciate it! Not quality coming from her or Thomas Hayden Church's comments about women's sexuality. I expected more from him. If this is the "quality" from now on, me and my roommate will have to pick another hobby or really pick less shows to go see. Thank you.
September 15, 2009
not as funny as "the proposal", wait for the DVD
September 13, 2009
What a great movie!
September 12, 2009
Worse movie I have seen in a really really long time! And I love Cooper and Bullock....very disappointing!
September 12, 2009
Funny, laugh out loud movie - if you're expecting a deep story line stay home.
September 11, 2009
ok, just ok...
September 11, 2009
Wait for DVD at the Video store when they have the 5 for a dollar days..Disappointing..and I like Sandra Bullock..
September 09, 2009
About as stupid and unimaginative as they come.
September 08, 2009
Terrible movie. I was expecting so much more after watching the Proposal. I am a big Sandra Bulock fan but this movie is a dud !!
September 08, 2009
it was so stupid not even funny