All the King's Men - User Reviews
Thank you for rating this movie!
Read your review below. Ratings will be added after 24 hours.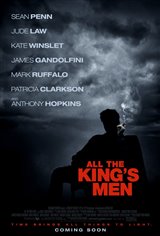 ---
Please rate movie 1 to 5 stars
Showing 1 to 24 of 24
December 20, 2006
I definitely enjoyed this movie, and I think Sean Penn`s performance is certainly Oscar worthy.
October 07, 2006
It is hard to imagine a more boring movie - but trying to do so would be a good cure for insomnia
October 05, 2006
Penn was great but the rest of the charachters had me falling asleep. I like movies that make you think, but this was dull
October 01, 2006
For all those people who thought this movie was boring are obviously more into films with senseless killing and violence. This movie was a masterpiece from beginning to end. Sean Penn deserves an Oscar!!! BEST FILM I`VE SEEN IN A LONG TIME!!!
September 29, 2006
OK MOVIE INTERESTING
September 28, 2006
Did anyone elce notice that you could see the microphones hanging above the actors heads in EVERY scene???!!! It was so distracting I could hardly pay attention to the movie. (and when I the mic`s weren`t hanging I couldn`t understand what they were saying anyway) .5 out of 100 from me.
September 27, 2006
I kept telling myself it was going to get better....never did. Worst movie of the year
September 26, 2006
Talk about a sleeper, a group of people walked out of the show half way through, I almosted went with them, but the people I was with were sleeping and I did not want to wake them. I would give this film a 2 maybe out of 10.
September 25, 2006
I walked out of this movie after an hour and half. I had never walked out of a movie before. I really did not care/was not interested in what happened to any of the characters in the end. Even more than the $10.40 I paid to endure this torture, I wish I could get the hour and half back - I could have painted something and watched it dry...and been more entertained.
September 25, 2006
I had high expectations for this picture,with the great cast and all but came away somewhat disappointed. It was good but not great. Anthony Hopkins was a scene stealer.
September 25, 2006
horrible!
September 25, 2006
Too many philosophical sayings. Too "southern" - I couldn`t catch all the words. it had its moments - too few and far between - for the most part, boring.
September 25, 2006
It was completely impossible to get into this movie...it`s almost like you have to know the story before you watch this movie to understand who everybody is and what their motives are. Anthony Hopkins saved this film from being a complete waste of time.
September 24, 2006
More boring than The English Patient
September 24, 2006
The original was a great film - the remake is a great mess
September 24, 2006
A powerful story, well presented. The only thing is I found the strong southern accent hard to understand when spoken fast. Very Good
September 24, 2006
dull... but great acting
September 24, 2006
well acted but could`ve been a much better movie.
September 24, 2006
This movie is terrible Sean Penn waves his arms frantically and speaks like he has a mouthful of marbles. The original with broderick Crawford is a film masterpiece - this remake is a travesty. Rent the DVD of the original
September 23, 2006
SLOW, SLOW SLOW. Sean Penn`s diaglogue coach should be fired as he never uses the same accent from one scene to the next. Willy Stark should be played as the pinnacle of political evil. Sean Penn`s portrayal borders on the comic.
September 22, 2006
boring,boring,boring,bad,bad,bad. good acting though sean penn was good but the movie itself was boring,boring,boring and bad bad bad.BrianBebee
September 22, 2006
Well acted. Lots of "words" long speeches etc - you had better not be sleepy! Jude Law excellent moody quiet mysterious role!
September 22, 2006
boring........
September 22, 2006
ALL THE KING`S MEN IS A TOTAL MASTERPIECE!!! THIS FILM HAS OSCAR WRITTEN ALL OVER IT!!! SEAN PENN IS SENSATIONAL!!!