Allied - User Reviews
Thank you for rating this movie!
Read your review below. Ratings will be added after 24 hours.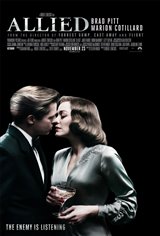 ---
Please rate movie 1 to 5 stars
Showing 1 to 34 of 34
March 24, 2017
I absolutely loved this film. To me, anything involving WWII is a must see as I have always been somewhat obsessed with this horrific time period. Pitt and Cotillard do a fantastic job of bringing true emotion to their characters and the movie. Cotillard is an incredible, very versatile actress who makes a wonderful partner and teammate to Pitt.
March 22, 2017
Another great movie starring Brad Pitt an underrated actor that one day people will have to admit he made the movie ... w/o him in it, like most today's actors.... blah! Just cuz he's hot has nothing to do with his excellent ability to play main character roles and can be scary, phsyco scary and funny and charming but makes the movie even a badly written or directed one! Oscar nominated and lost for the usual stereotypical reasons! We love you Brad Awesome movie ... allied
March 10, 2017
a very good movie, two thumbs up , a must watch
March 04, 2017
Best movie I've seen all year!
February 08, 2017
The movie was a love story about two spies during WWII. As it turns out, one is a legitimate spy and one is not. Anyway, Brad Pitt and Marion C. are both great actors and they are great in this film. It has been nominated for an Academy Award for Best Costume Design. Good story line and authentic in its WWII history props. Keeps you guessing until the end who is really the spy. I would recommend this film.
January 13, 2017
Totally entertaining, kept you guessing. Definitely worth seeing
December 19, 2016
Well made. Worth seeing especially for fans of the 'Casablanca" type films of back in the day. Actress Marion Cotillard steals the show as an updated version of Marlene Dietrich. Brad Pitt generously lets her steal it in an underplayed costar role. Slow first half of the movie builds nicely with more and more intrigue until the final showdown at (guess where ?) yes the airport. Question: why do antique cars used in period films always appear immaculate....even in a dusty desert. Go figure.
December 16, 2016
Beautiful love story but not a chick flick. I highly recommend this movie.
December 14, 2016
Beautiful
December 13, 2016
Enjoyed this movie. The time period covered was exceptionally depicted. Found it to begin slow and then the story line took on a life of its own. The two lead actors performance was impressive. Not a huge Brad Pitt fan but thoroughly enjoyed him in this role
December 12, 2016
Good, and a plot that I could actually follow instead of a dozen different directions and dead ends. Very good period costumes, scenery, period weapons, cars etal are a visual treat. Never cared for Brad Pitt, but he is an excellent actor and finally a masculine image unlike the Cruise guy who does impossibly stupid feats which ruin realism. It flowed, had a good story, acting,and my wife and I enjoyed it.
December 09, 2016
Not as fast paced as the trailers. First 40 minutes seemed painfully slow and there was little suspense. When you get to crux of story then there is some tension and envolvement. Much of the movie was shot in low natural light which have contributed the slow feel. It is an old fashioned movie.. We went to cheap early show. Not worth paying top dollar.
December 09, 2016
Was expecting more action, surprisingly dull except for the opening 1/2 hour. There were too many 'no ways' in this movie to take it seriously. The acting was okay but not exceptional. Wait for the DVD.
December 07, 2016
Good movie! My husband was reluctant to see this thinking it was just a love story/chick flick. When we left the theatre he looked at me and said "well I was wrong". We both really enjoyed this. I'll leave it to that, as it is hard to discuss the movie without giving too much away.
December 07, 2016
While this film had potential for greatness it fell short in several areas including historical accuracy. The costumes were superb as was the art direction and cinematography. The lovemaking in the car during a sandstorm was particularly well done. The acting perfurmanced by Brad Pitt and Marion Cotillard were adequate for a only passable script. Both could have done better had the writers and director Robert Zemekis tried harder. The other were the boo boos. If you believed the film, females in the military could openly be exhibitionist lesbians in the 1940s. Hardly! They would have been kicked out of the service as degenerates and security risks and possibly jailed. Also senior officers and ranks weren't in the habit of snorting lines of cocaine at the house parties of other officers. I saw the movie on a cheap Tuesday night so it wasn't a complete waste of time and money. But if you prefer to watch serious Oscar contenders this time of year, wait until next April and rent it for a couple of bucks.
December 06, 2016
Welled played by both main actor and actress!
December 05, 2016
Very well done really good acting
December 04, 2016
Interesting depiction of the human intrigues of war and it's challenges with espionage.
December 04, 2016
Fantastic, Suspenceful, Romantic all around Great movie! Must see. Saw it twice.
December 04, 2016
I enjoyed this movie from beginning to the end.
December 03, 2016
excellent film, don't listen to the yo yo's giving it a low rating, it was really good and would see it again on the big screen, would say more but don't want to give anything away in allied
December 02, 2016
surprisingly boring. fair two stars
December 01, 2016
loved this movie......
December 01, 2016
The critics were wrong on this one. I loved this movie. Would watch it again and recommend it to my friends. Acting was great, moved along nicely telling the story. Cried at the end.
November 30, 2016
i love this movie, i deeply felt sad about the outcome, i strongly recommend this movie to be watched, the plot will be stuck in ur mind for days
November 28, 2016
This movie had a few draggy spots, but overall it was a good movie to see and it's in a different era.
November 27, 2016
It had everything - Intrigue, action and romance. I don't usually care for Brad Pitt but he was great in this.
November 27, 2016
Intriguing but slow in spots.
November 27, 2016
Excellent movie! Would watch it again.
November 26, 2016
Need to disagree, wait for this one to come out on DVD or better still, get it for free at the library.
November 26, 2016
Brad Pitt deserves Best Actor nomination - its Oscar season once again and this one deserved a lot of attention. I give 5 stars for one great movie. I was shocked with the ending ! wow! Bernard C.
November 25, 2016
average
November 25, 2016
This movie will definitely be an Oscar nomination if not a multiple winner. Flawless performances by them both. You don't want to miss this one.
November 23, 2016
Love it - worth seeing!