Amazing Grace - User Reviews
Thank you for rating this movie!
Read your review below. Ratings will be added after 24 hours.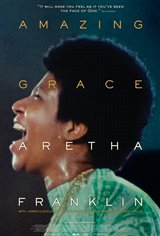 ---
Please rate movie 1 to 5 stars
Showing 1 to 13 of 13
May 31, 2019
It's perfect in every way. Have seen it 3 times and going again. The voice of a goddess that will live on for eternity.
May 25, 2019
so raw , so real, so wonderful
May 21, 2019
Loved Aretha - so sincere - as well as her voice - her voice is unbelievable so precise no big orchestra just a piano and bass every once in a while! She did not even need any music - she made her own. She was on point with or without music. Simply Amazing!
May 18, 2019
Disappointing. No story. What gives?
May 16, 2019
Please do not be confused. This is a musical, not her life story. The best musical I have ever seen. You will feel like you are at a concert!!!
May 15, 2019
This is a great movie. You see Aretha Franklin at her best in a natural setting. Mick Jager just drop in to see what's going on. You will go to church on this one. It's fantastic. Don't miss it.
May 09, 2019
Loved everything the singing was awesome and the cameras had it so clear. I only wish it was longer
May 08, 2019
I've seen this film 6 times! So proud of the American art form of gospel, blues and jazz, with its ability to move your spirit and body. The British has studied these musical stylings to become some of the greatest musicians of all times. We see fleeing moments of Mick Jagger with serious focus on studying Aretha, musicians and choir. Mr. Jagger was in school that day!
May 02, 2019
Best singing with soul that I will probably ever see again in my life time!! There's only ONE queen of Soul, and that's Miss Aretha Franklin!! Can't wait for her Biography to be released August 2020.
May 01, 2019
Amazing Grace is the GREATEST Concert Movie ever. Aretha Franklin is electrifying and so is James Cleveland and the Southern California Community Choir.
April 29, 2019
Amazing Grace is the most dreadful movie I have ever seen. After about an hour I left. There is no story, of her. The movie opens in a room where she is a young woman and her brother plays the piano while she sings. That is the WHOLE movie. Dreadful and dissapointing. She was an incredible singer and her story should be told.
April 12, 2019
The Queen of Soul is gone; Long live the Queen. Aretha transports the viewers to another level in this movie
December 10, 2018
Fantastic beautiful rare film of the greatest singer