American Gangster
Thank you for rating this movie!
Read your review below. Ratings will be added after 24 hours.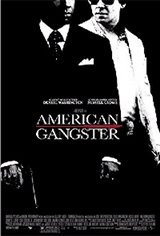 2.80 / 5
User Rating
Based on 1778 votes and 129 reviews
---
Please rate movie 1 to 5 stars
Showing 1 to 50 of 129
May 18, 2011
Awesome movie....Outstanding performances!
May 01, 2010
COOL MOVIE - Crowe and Denzel are great together
March 30, 2009
This was a great movie with an amazing cast. denzel and russell did an awesome job working together to re-create the story of one of the biggest drug lords the US has ever seen. plus it was a great topic for my US history paper.
October 30, 2008
i love the movie always watch it.
September 30, 2008
awesome movie that is felt from start to finish!!! absolutely BREATHLESS
March 19, 2008
American Gangster was a great film.
March 05, 2008
this had to be the best movie i have watched in a long time. i would encoourage anyone to go see this movie. it will definetly be one of the best movies ever made
March 03, 2008
I loved it, was shocked as to how they did things.
February 22, 2008
Found it very slow-paced, and long..although there are some good scenes overall American Gangster was just straight out BORING! I'd give it a 2!
January 23, 2008
This is probably the most generic and boring gangster movie I have ever seen. I was hoping for something far better from such a great ensemble.
January 21, 2008
Wow. This movie is so deeply affecting on so many levels. I sat there during the film with my jaw on the floor. I walked out the door feeling like the air had been knocked out of my lungs. Best movie of 2007, hands down.
January 17, 2008
The movie was so violent! There was so much nudity and sex that wasnt needed to make it a good film.
January 12, 2008
Eastern Promises was a much better "ganster" film
January 11, 2008
Boring....with no sub plot.
January 01, 2008
Does Denzel ever make a bad film? Great movie but not perfect - a four out of five. Enjoyed it. Worth the cost for admission. My wife anjoyed it as well. Not just a guys flick although I had to laugh at the reviewer who wanted to kill his girlfriend for asking if "it was over yet?"
December 30, 2007
excellent &interesting.... great acting...well worth seeing !!!
December 28, 2007
lots of violence, good acting,long movie
December 15, 2007
This was a great movie from start to finish!
December 08, 2007
I wanted to kill my girlfriend because she kept asking if it was over yet!
December 05, 2007
What a film, loved evey minute of it.
December 05, 2007
Nobody and i mean nobody can mess with Mr. Washington
December 02, 2007
disappointing.....for all the talent involved with this picture, it could have been a lot more involving and interesting.....and a lot less long
December 01, 2007
Give me a break! Oscar worthy? Not a chance!! As good as Scar Face, Good Fella's? Not even close! Worst movie I have seen at the theatres in a long time, couldn't wait for it to be over!
December 01, 2007
This movie was BORING! I really don't know how other people can say how great it was, with microphones having over everybode through out the movie, low action, what a waste of money!
December 01, 2007
long but good.
November 27, 2007
I haven't been to a movie at the theaters for years but I'm glad that I chose American Gangster. Even tho I balked at the $10 I had to plunk down to get in it was well worth it. This movie is one of my all time favorites and I can't wait for it to come out on DVD that is a definate will buy for me. Aside from the great music it had running thru it (even the church choir was fantastic) it brought back some nice memories of the 70's with listening and watching Ali and his poetry. The movie I thought was pretty good in how that whole drug era was. The cops were just as dirty as the criminals they were "attempting" to put behind bars. Denzel Washington is always great no matter what he pla
November 25, 2007
Wow, excellent cast, excellent everything.you dont have to be over 45 to understand the plot, what might help is a desire for money and power, or the want to believe that not everyone is corrupt.who will you chear on the good guys, or the bad
November 24, 2007
The Movie Maniac sez.... GO SEE THIS FILM! This is a good gangster film. What makes it even better is that it is based on real events. See this on the big screen and add it to your collection of gangster favorites at home when the DVD hits the retail stores. The Movie Maniac
November 24, 2007
great great great
November 23, 2007
thsi is my favoruit movie of all time !!!!!
November 22, 2007
I WAS BACK IN THE DAY...DAMN GOOD SCENES.
November 22, 2007
the movie was great!!! for all those that donnot understand the plot, the real story of the movie, well you have to be older then 45 years old! Great movie *****+*=6
November 21, 2007
I couldn't even take this movie seriously with all the microphones dangling over the actors (in the scenes) throughout the movie. This was easily the funniest movie I've seen this year. Shame on the production team for allowing that to happen, I'm embarrased for them. It would have been a good movie if it didn't feel like the whole budget was spent on the two leading actors, with nothing remaining to make it look so scrub.
November 19, 2007
AWESOSME MOVIE!!
November 19, 2007
Oscar movie all the way!!! Denzel is fantastic and the supporting cast shines as well.... nice work.
November 19, 2007
AWESOME
November 19, 2007
this was by far the best movie i ever seen..scarface, godfather both great movies but fictional so they could spin tha story lines and the plot anyway they wanted but this wasnt so they had to stick to the real story...denzel was untouchable, prolly tha best actor ever...and russ crowe was killin it...17 outta 5 stars.
November 17, 2007
was the best movie
November 17, 2007
There is already a comment posted that sums this up perfectly..."I found the movie very slow paced (with a few decent action sequences). Would have made a great 90 minute movie... too bad it goes almost 3 hours" Couldn't have said it better, so I won't.
November 17, 2007
the movie was great
November 15, 2007
Denzel does his usual outstanding job as an actor. I felt a bit misled by the trailer. I found the movie very slow paced (with a few decent action sequences). Would have made a great 90 minute movie... too bad it goes almost 3 hours.
November 14, 2007
It is a fantastic movie and knowing that it is true and the persons are still living makes it much more interesting.The actors...well...all i can say is...they are the best..all around..from whom ever is involved in the total production...FANTASTIC !!!!
November 14, 2007
Wasn't a bad time waister, but did nobody else see the boom microphone in soooo many scenes Not very good for all the money spent and it means the producer doesn't care
November 14, 2007
I was disappointed by this movie, it had great acting and plot just that it was really slow, boring and long, i might be a little bias cuz i saw it in a theater with unconfortable seats but it should have been shorter, 3.5 stars
November 13, 2007
excellent four stars
November 12, 2007
"Oscar"for Denzel for best actor and best supporting actor for Russel.
November 12, 2007
I just loved this movie. Russel and Denzel was great.