American Made - User Reviews
Thank you for rating this movie!
Read your review below. Ratings will be added after 24 hours.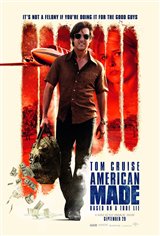 2.94 / 5
User Rating
Based on 272 votes and 102 reviews
---
Please rate movie 1 to 5 stars
Showing 1 to 50 of 102
January 31, 2018
(Huge Spoiler Alert below) In a vast sea of drug running movies involving the Columbian Cartels, this movie crashes and sinks to one of the bottom feeders. Tom is uninspired and phones it in as doomed amoral CIA dupe pilot Barry Seal. His entire operation comes off as a huge joke, as it turns out, one of the biggest problems with running drugs for the CIA and the Cartels is that you have issues hiding the money, as the numbers become non-sensical. The movie properly portrays the CIA as Users and Abusers of hard working Americans, but does not properly go into their heavy involvement in the drug trade and hooking America on cocaine to fund their black programs. Fine for a rental, and largely forgetable, which is I'm sure how the CIA likes it.
January 21, 2018
Very entertaining, while exposure to this serious issue. Tom Cruise is marvelous as Barry Seals..
January 09, 2018
great movie , true story
January 05, 2018
Love Tom Cruise ??
January 02, 2018
i enjoyed it
January 02, 2018
Great movie Very entertaining and funny as well, if you are a Tom Cruise fan than this is a must if you are not then appreciate how well the movie is put together with a great story ark and masterful story telling
December 27, 2017
Would be even better if B & H Clinton and the many murders surrounding their involvement in the drug/arms trade were included.
December 09, 2017
Great movie.
November 30, 2017
Looks like the Multiple Movie Reviewer Troll hates Tom Cruise. Remember troll, one review will do! I actually like him as an actor, and enjoy most of his movies. This one was mediocre and almost TV movie of the week feeling.
November 29, 2017
The only movie where someone gets blown off in his car and it actually looks like the real thing. No Hollywood style fireball. I feel Cruise does an amazing job at impersonating a character who actually existed and show both his good and bad sides, his strengths and weaknesses. A talented pilot who doesn't realize until it's too late he's just a pawn in a very dangerous game. Can you believe this stuff actually happened and US government civil servants firmly believed something good was going to come out of this mess ?
November 18, 2017
I would probably have rated this movie at four stars however I'm giving it 5 to compensate for all the cynics out there that there is NO pleasing. You know the ones, "lousy movie, bad acting, another stinker from Tom". This movie was fun and entertaining, I don't think it's supposed to "move you". I honestly believe that for some of these movie goers there's just no pleasing them. Here's a little advice for them,...stay home and watch Netflix. Then put your rating experience to work by rating Netflix content, it needs it more then the movies in the theatres.
November 14, 2017
1star- enough said.
November 13, 2017
And yes, another stinker for Cruise!
October 29, 2017
Cruise can do no wrong. Best actor ever!
October 29, 2017
Good story line, not much action, but really draws you in. Shows how some people are never satisfied with what they have, even though they have a lot and are willing to risk it all for even more. Everyone is supercritical of Cruise, but he did a commendable job in this flic.
October 24, 2017
I call this a dramedy, a bit of fun ,a bit of fun camera work , lousy acting by most especially tom, you don,t get what you pay for. I watched on line and it was ok for free...
October 24, 2017
Worst movie of the year. Cruise needs to retire. There are more talented actors than him . He ruins every single movie.
October 23, 2017
Good one, don't miss it.
October 23, 2017
Very entertaining
October 22, 2017
It wasn't very good. It was rather boring. It had no suspense. It felt more like a TV movie.
October 22, 2017
Terrible movie.
October 22, 2017
Happened but the story was told like a Hollywood story. Made to fit Cruise's movies. The last time I saw a good movie from Cruise was War of the Worlds.
October 21, 2017
Good story and action.
October 21, 2017
Don't waste your time or money
October 21, 2017
Tom is well past done! Terrible
October 20, 2017
filthy, & disgusting ! my rating would be NO stars. i walked OUT after 45 minutes and felt dirty! its why i suspect the movie business is down so many billions of $ mostly trash plots, and obscene language
October 19, 2017
Enjoyed this fast based and somewhat fact based movie. Of course I do like Tom Cruise. The titles between the sequences gave the movie an interesting look and moved the action along. A perfect movie for Tom Cruise.
October 19, 2017
Good show
October 18, 2017
True story only designed for Cruise. I don't buy this movie.
October 18, 2017
Based on true events. Movie was very entertaining and tom was outstanding
October 17, 2017
I enjoyed this movie...why do so many people who don't like Tom Cruise go and see a movie he's the main star in???? It was good entertainment ...
October 16, 2017
Worst actor ever!
October 16, 2017
Cruise should retired or change his style. Same expression and tone of voice. No matter what character he is playing. Boring actor.
October 15, 2017
Can't decide if this one is the worst or Happy Death Day.....ok, this one WAS the worst.
October 14, 2017
Very real story from someone who lived and survived the '70's. Moral of the movie was well conveyed ... never trust our government.
October 14, 2017
The sad thing is this happened and nobody cares unless it affects them personally.
October 14, 2017
Sorry...I'm not an idiot. I knew it was based on a true story & the truth is Tom was bad. End of story.
October 14, 2017
Happened and Hollywood changed the story like Disney does with all the movies. Only to show Cruise.
October 14, 2017
Great story line, most of the idiots that watched this movie do not realize this did happen
October 14, 2017
Stupid .....
October 13, 2017
Snoresville....Tom is such a has been.
October 12, 2017
A Tom Cruise snooze fest.
October 12, 2017
I really enjoyed this movie! Tom Cruise was great in it! I thought his acting was excellent. He hit all the emotions and facial expressions throughout though this was a comedy like version of the true story. The movie played well, kept my attention, just plain good. The flight scenes and location scenes were a bonus. I recommend seeing this movie.
October 11, 2017
Very good movie, I'm not normally a TC fan but he brought an interesting character to life in a fascinating story line set in a true life setting.
October 10, 2017
I agree...Tom is no longer a box office hit....he's lost the studios millions upon millions....guess they'll never learn!
October 10, 2017
When will Hollywood realize that Tom is way past his prime - absolutely the worst actor maybe ever!
October 09, 2017
I loved it. Entertaining....
October 09, 2017
Brutal acting -cruise is terrible