American Reunion
Thank you for rating this movie!
Read your review below. Ratings will be added after 24 hours.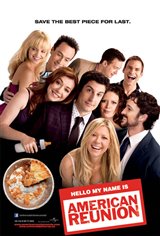 3.89 / 5
User Rating
Based on 470 votes and 133 reviews
---
Please rate between 1 to 5 stars
Showing 101 to 133 of 133
May 11, 2012
cheap and boring remake....can u say "cash-grab". they made this flick because none of the actors/actresses actually moved onto a career other than the band-camp girl.
May 07, 2012
dissappointed!
May 05, 2012
great comedy - lots of laughs
May 03, 2012
lame and predictable...same thing over and over again. please let these people move on with their lives and try to find careers.
May 02, 2012
omg way too funny!! haven't seen a funny movie like that in a long time.
May 02, 2012
this was a great way to end the franchise. you need to watch the three to appreciate the tie ins.
April 30, 2012
not worth the time or $$...just rent the first one as the jokes are the same.
April 30, 2012
the movie would have been better if only focused on jim's dad (eugene levy). recycled jokes aren't funny.
April 21, 2012
did not disappoint. so, so funny. better than expected.
April 20, 2012
this movie was so hilarious i could not stop laughing. it was well done and totally enjoyable. i would say go see it. it will lift your spirits and make you feel good when you leave. great movie, so well done...much better than i expected it to be.
April 15, 2012
decent.. but not as good as i would have expected.
April 15, 2012
i have to say i was so looking forward to see this movie and what a let down. out of the 4 main american pie movies (not including the made for dvd ones)this one is the worst. good to see the cast together, but only a few laughs. the previews made this show look way better than it is.
April 14, 2012
omg what a movie, exspecially the end! i cant spell right now cuz i cant stop laughing!
April 14, 2012
probably the worst movie of all time. obviously the writers, producers and directors of this film were just looking to beat off and exploit young women.
April 11, 2012
great movie
April 11, 2012
hilarious..
April 11, 2012
it was funny... plenty of awkward moments... a few so-so moments. enjoyed it.
April 10, 2012
awwww... all are grown up adults now... but awkward moments are aplenty, a bit more racy here and there, and some a bit 'blah'... but i still enjoyed it... had plenty of laughs and that's all i expected.
April 09, 2012
the only good thing about this movie was the head i got in the theatre during it.
April 09, 2012
good movie
April 07, 2012
people who hate this movie, are the ones who read the hunger games and think they are smart. get a life losers, this movie was the best!
April 07, 2012
it's nice to see the old gang back together again - the cast is charming, and the film is fun.
April 07, 2012
if your a fan of the american pies then this is a must see. all the characters are back and deliver a great comedy. we can only hope for another in ten years. definitely worth the wait.
April 07, 2012
Good movie for a classic movie series
April 07, 2012
don't make us wait another ten years for the next one!
April 07, 2012
bad, very bad on all levels. someone please retire this franchise.
April 07, 2012
it's always great to see shannon elizabeth, especially now in 3-d!
April 06, 2012
i thought the movie was hilarious, and they way they had stifler finally get back at finch was the best! i was almost crying from laughing so hard.
April 05, 2012
hilarious!! really had a good laugh at this one.
March 31, 2012
the 3-d is useless until shannon elizabeth shows up. 2/5
March 31, 2012
shannen elizabeth, where have you been?!?!